Riding the Puffing Billy (04/25/04)
Last updated 05/05/04
---

Puffing Billy, a 100+-year-old steam train, makes for a nice daytrip from Melbourne, even on a rainy autumn day. We've been told that in summer it's way better because you get to dangle your legs out of the coach windows, but our chilly ride through the drizzle provided other pleasures: viewing the wet but still gorgeous landscape with rolling meadows and green forests of the Dandenong Ranges, admiring the big puffs of steam released by Billy, and having a cup of sweet hot chocolate (my warmest memory of the day). The ride can be a romantic experience (we observed a wedding party boarding our train, rain and all!) or a great family outing. After an hour or so on the steam train you arrive to a lovely park with a lake (boating and water slide in summer season only), picnic facilities, and a museum with a working railroad model the size of a classroom. Since I adore model railways since early childhood (Railway Museum in St.Petersburg was one of my favourite places to visit on weekends with my parents, and I had electric trains of my own to play with), I had a marvellous time watching the little trains go through tunnels and over bridges and past one another on intersecting tracks, and pushing buttons to turn on blinking lights and make toy Ferris wheels go round.

Pictures
Above: Getting to know Puffing Billy at Belgrave station before departure. Below: Choo-choo!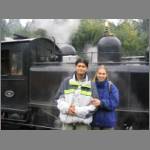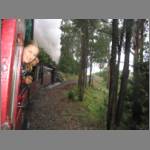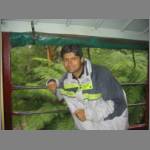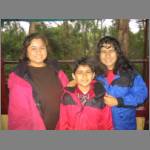 Above: arriving to Lakeside. Victoria's Dandenong Ranges provide the majestic backdrop for the scenic ride.
Below: the serene lake, model railroad, and the none-too-subtle warning against drunk driving: "If you drink, then drive, you're a bloody idiot". Other roadside pearls of wisdom we've seen: "Rest or R.I.P.", "Survive this drive" (an admonition for tired drivers to use rest stops). They don't mince words in the great Down Under, y'know!