Feel the gold rush at Ballarat (04/26/04)
Last updated 05/06/04
---

The small town of Ballarat, less than two hours' drive from Melbourne, Victoria, was the center of Australian gold mining industry in mid-1800s when many fortunes were made, and many more lives destroyed, in the grip of gold rush. Today the place presents a beautiful, authentic recreation of what the town looked like back then, with its two gold mines, a panning creek, horse-drawn carriages, quaint little shops (candlemaking, goldsmith, bakery, bowling alley and more) and "locals" dressed up in costumes of the past. The visitors' experience is very hands-on: you can dig, pan and sift for gold nuggets at the creek (and buy real ones later at the souvenier shop because you won't find any yourself), tour the mines, get a carriage ride, strike the pins according to the olden days' bowling rules, and overall have a good time.

Pictures
Above: our attempt at panning gold at the creek (zero profit, of course). Below: touring the mines -- plenty scary for one little girl here... you see, pictures were taken with a flash, but otherwise it's pitch dark in there, right? And my man kept walking away, leaving me all alone in the dim, damp underground...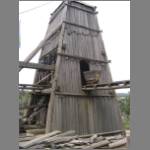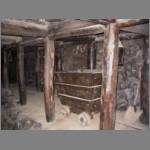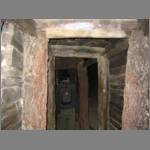 Below: views of the town and its means of transportation (horsies, mostly, and your own two feet).
Below: Ballarat entertainment. Witness a gold smelter make an honest-to-god gold brick (and promptly lock it away in a safe box), observe a candlemaker dip a few multicolored candles in front of you (all real and for sale), cover your ears as the Red Soldiers fire away their blanks, and play a game or two at the bowling alley.