Seein' a 'Ray at the Whitsundays (05/05/04)
Last updated 05/29/04
---

Ok, not much to say about this trip other than the highlight was getting to see a manta ray while snorkeling... oh yeah, and I really, really don't like going out on boats -- every time I end up feeling a bit queasy on these little yachts, and it's hardly worth it to go for 2 hours each way to do a couple hours of snorkelling... in retrospect we were very lucky with monkey beach in Thailand!

Pictures
Above: Some pictures of us in nifty stinger suits (they prevent bites/stings from all sorts of jellyfish present in the water).
Below: Sights from the place where we went snorkeling. It was a good 2 hour boat ride from Airlie beach... I love snorkelling but hate all the time spent getting to the reef (not to mention the unpleasantness of seasickness in rough seas!).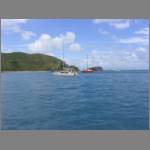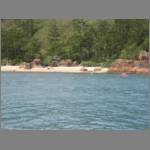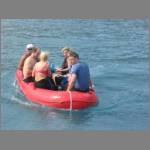 Below: Airlie beach is a pretty little place which also has a nice marina.