Visiting the Guru in Melbourne
Last updated 04/31/04
---

Melbourne, supposedly one of the most "liveable" cities in the world and home of Puneet's cousin Gaiety and her family, was the first stop in our Aussie adventures. We'd like to thank Anshu, Gaiety, Abhishek and Aditi for being such warm and generous hosts during our stay. Below you'll find some pictures of the family (including cute cuddly pets) and the restaurant where we got to feast like the rajas of yore.

Pictures
Puneet's cousin Gaiety and her family were wonderful hosts during our stay. Everyone from her chef (the guru extraordinaire) husband Anshu, to Abhishek (the gameboy fan) and Aditi (the lover of books who would still dump egg on Puneet's head if given the chance!) and their friendly dog Monty and little Chubby rabbit made us feel at ease during our stay in Melbourne. Thanks guys, you made our stay in Melbourne memorable.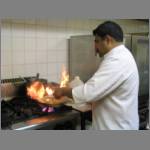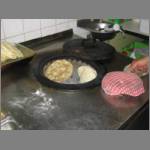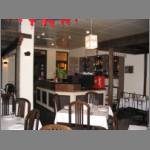 Gaiety's husband Anshu is the chef at their restaurant, the Kari Guru, and when it comes to Indian food he is certainly a guru! We had the good fortune to eat at the restaurant on several occasions and so were not lacking for good food while in Melbourne. It was delightful to actually have a chance to hang out in the kitchen and see Anshu in action and get a glimpse of how the restaurant biz works. If you're in Melbourne, we'd highly recommend the Kari Guru (the chicken tikka and palak chicken were Puneet's favorties).
A view of the city streets of Melbourne -- a wonderful place to visit and possibly even live (if you can adjust to driving on the left side of the road which is no big deal after a couple of days). Despite being a big city it has the charm of a small town (much like Berkeley). Although Canada (especially Vancouver) would be my top choice for a place to stay outside the US, I'd rate Melbourne pretty high on the list.