European Backpacking Adventures
Last Updated: 01/28/04
---
Interactive Map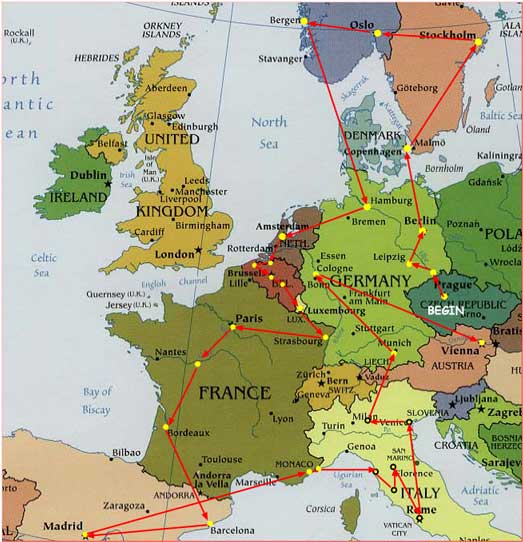 Here is our route across Europe during our backpacking trip. Click on the yellow dots to bring up the blogs for a particular city. You can also use the drop-down menus for country and city provided in the "Blogs" section.
Blogs
Here are the blogs from our European backpacking trip. The blogs for cities in a particular country are grouped together. The countries are listed in the reverse cronological order of when they were visited (eg: Vienna visited last, while Czech Republic was visited first).
To aid in navigation, you can jump to the blogs for a country or even a specific city.
Country City
Austria
Italy
Ciao, Ciao Verona e Italia - 12/14/03
Canals, Boats and Pigeons in Venice - 12/11/03
Ruined Rome - 12/07/03
Friends in Firenze - 12/05/03
Burnt Siena - 12/04/03
Leaning Tower of Pisa - 12/02/03
Spain
Real Madrid - 11/25/03
Gaudi Barcelona - 11/21/03 (No Blog)

France
Monaco - 12/01/03
French Riviera: Nice and Cannes - 11/29/03
Bordeaux (French for bitter red wine) - 11/19/03
Chateaus (French royal castles) in the Loire valley - 11/17/03 (No blog)
Reunion with Paris after 2 years apart - 11/14/03
The other Notre Dame: Strasbourg - 11/12/03
Luxembourg
Luxembourg City - 11/10/03
Belgium
Friends and Frites in Namur - 11/07/03
Brussels, the bilingual capital - 11/06/03
A real-life fairy-tale in Brugges - 11/05/03
The most beautiful train station of them all... in Antwerp - 11/04/03
Netherlands
Pedestrian Hell in Amsterdam - 10/31/03
Norway
Fjords and Tasty Goat Cheese in Oslo - 10/25/03
Sweden
Tall Blond Swedes in Stockholm - 10/23/03
Denmark
Royalty and alternative lifestyles in Copenhagen - 10/21/03
Germany
Cologne - Our last whiff of Germany - 12/16/03
Suicidal Santas in Munich - 12/15/03
Hamburgers hangout in Hamburg? - 10/30/03
The Wall, SS headquarters, and international cuisine in Berlin - 10/19/03
Leipzig, Bach's final resting place - 10/17/03
Dresden - 10/15/03
Czech Republic
Prague - 10/13/03
Preparations and the flight
How I saw Frodo on the side of a plane, and other travel oddities - 10/12/03
Trip Preparation - 10/10/03
Contact
Questions, Comments, Flames... all are welcome, so feel free to e-mail us: