Dresden and Slaughterhouse 5 (10/15/03)

Last updated 10/23/03
---

During the final days of WWII, Allied forces fire-bombed the eastern German town of Dresden killing tens of thousands and levelling a town that was once hailed as "the Florence of the north". On the night of one such raid, a young American POW, Kurt Vonnegut, spent his time in a slaughterhouse-turned-bomb-shelter while aircraft dropped their "gifts" on the town. The next morning Vonnegut emerged from his shelter to discover massive casualties and a town laid to waste, due to the efforts of his own people. That this experience resulted in the culmination of his famous "anti-war" novel, Slaughterhouse 5, was about all I knew of Dresden when we arrived at the train station in our first stop on German soil. I soon discovered that much of the earlier beauty of the town had been painstakingly restored, though a few reminders of the devestation still remain (eg: the Faurenkirckhe is still undergoing reconstruction after all these years). And believe me, Altstadt (or Old Town) is an amazingly beautiful place, making the trip to Dresden worthwhile.

Our stay in the Lollis Homestay hostel in Dresden, with its cozy, student-like atmosphere, was a memorable experience. It felt much more like a home than a hostel, and if you're planning on visiting Dresden, I can highly recommend it (though the neighborhood of Neustadt where it's located feels fairly ghetto). In addition to the niceties of the hostel, Dresden provided the first taste of German sausage (bratwurst, bockwurst and the like) which is pretty darn tasty. Plenty of hot-dog stands line the streets and for less than 2 euros, you get a large sausage, covered with ketchup and mustard, which is encased in a tiny little bun (sometimes *barely* enough to hold with 2 fingers). Combined this with cheap German beer and you've got yourself a tasty, filling meal which gives you the needed boost to explore the city. Oh yeah, in Dresden, I also discovered that European "winters" (hah, winter hasn't even really started here yet) can be damn cold without a scarf. So after an afternoon spent "discovering" bratwurst and beer, we spent the evening combing local clothing malls to snag a scarf for yours truly. I ended up getting a nifty part-cashmere, part-wool scarf which, IMHO, looks pretty stylish and has certainly kept me a lot warmer.

At the end of a day of exploration in the city we stopped at a pretty church in Altstadt to see what the inside looked like. To our surprise we discovered a packed church full of folk attending the evening services. After obtaining a transcript of the hymns, Daria helped guide us in trying to follow the beautiful singing which was taking place (btw, the people in the church did most of the singing with the church choir simply providing occasional prompting lines). It was a very peaceful and moving experience, and Daria and I both agreed that such events were probably important in helping people cope with the stresses of daily life in a productive manner.

As for the other sights and smells of Dresden please look below... to enjoy all the scents you will need to have the SmelloVision(TM) plugin installed.

Pictures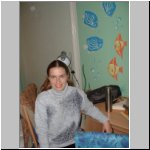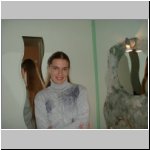 A couple of shots of our hostel in Dresden. Very nice atmosphere & reasonable rates.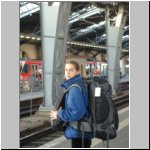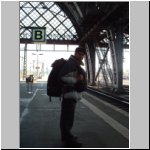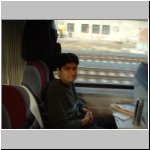 Some travel-related shots. REI travelpacks help in travels again.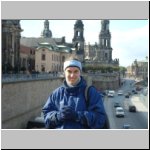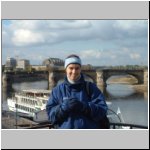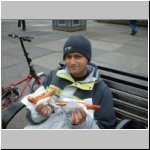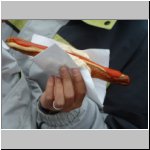 Soaking up Dresden culture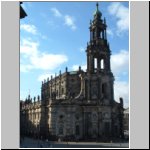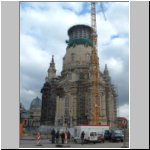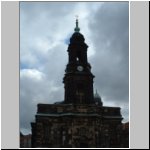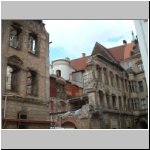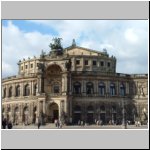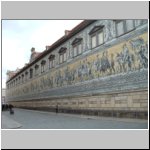 Some pictures of Dresden