Pizza, Pasta and Chole-Bhaturas in Berlin (10/19/03)

Last updated 10/23/03
---

Berlin, the site of the Allied occupation forces during WWII and the Berlin Wall, was our next stop after Leipzig. Expect some tales about the museums, the wall, getting a new camera, and the international flavor of the food we experienced during our stay. BTW, we got to take an ICE (Inter-City Express) train from Leipzig to Berlin, and it was incredible! The train itself was very luxurious and we even had power outlets at our seats, as well as very nice large tables between seats that reclined WAAY back. Also, these trains travel at something like 160MPH (miles, not kilometers!), making the surrounding landscape a mere blur... Puneet gives it two thumbs up!

Daria: My most distinct impression of Berlin was not, as one might expect, the Wall and other separation memorabilia, or the numerous art museums, or the architecture, or Unter den Linden street, or World War II legacy, but the sleepy peaceful feeling that apparently descends on the city and its inhabitants on a Sunday morning. We were out downtown on a sunny Sunday, accompanied exclusively by other tourists, and could not help sharing in the restful, familial and somewhat solitary atmosphere that invited one to stay at home in a nice comfy armchair next to a fireplace after a sumptous post-Sunday-church breakfast. Lucky are the people who follow this inner inclination... we, on the other hand, spent the day exploring the German capital, and came out richer in impressions and poorer in worldly belongings, as I ended up losing our photo camera at Pergamon museum.

Museums abound in Berlin, and you can find all kinds: history, modern and classical art, antiquity, war, and probably much, much more. Time allowed us to visit a few museums covered under the same SMB admission pass (SMB being some museum authority of Berlin), all of which are located on the Museum Island in the middle of the city, right next to the beatiful Berliner Dom cathedral. By the way, I thought the Dom looked suspiciously similar in design to the St. Isaac cathedral in St. Petersburg; it would be interesting to find out whether there is any connection between the two architectural wonders. So, Museum Island houses the Altes ("Old") Museum with its collection of ancient Greek and Roman items, as well as another collection of classical antiquities -- Pergamon Museum, and the Alte National Gallery, home to the works of 19-century German painters. I most enjoyed the picture gallery, especially the painting by Franz von

whats-his-name "Some-woman

as Circe" which impressed me as works of art rarely do. The Altes Museum had a marvellous Greek Rotunda -- a large round hall with high vaulted ceiling, surrounded by pillars that frame statues of Greek divinities. The other items on display (vases, sculptures and jewellery) bored us quickly, despite the informative displays on the life of Greeks and Romans. The Pergamon museum lays its claim to fame in full-size reconstructions of historic architecture, including the Ishtar Gate of Babylon (6th century BC), and Hellenistic Pergamon Altar (170 BC) which gives the name to the museum. Those sights were interesting, though much obscured by restorative works inside the museum building... Ishtar Gate was hard to see behind all the modern construction implements. I may be somewhat unfair in describing Pergamon museum because I now possess personal negative associations with it: I forgot our camera in its ladies' room, and when we returned not half an hour later, the camera was nowhere to be found. It's sad to consider that there are thieves among the museum-going crowd, but I suppose if I was careless enough to leave the camera behind, someone else had to be enterprising enough to carry it off. Such is life. As a result, we bought a new superslim 4-megapixel digital camera, and the pictures below are its first fruit, pared down to a manageable file size.


Puneet: Now my little aside on the whole camera affair and what it entailed the following day. First off, a major Mehra curse upon the jerk who stole our wonderful camera. Since there was NO way we were going to ever see the camera again, the only option was to buy a new one... The day after losing it we went to Saturn (an electronics store throughout Germany, not the planet) to score a new camera to preserve memories of this trip. We must've spent at least 2 hours looking through all the cameras before spluring on a nifty new Casio EX-Z4, 4 mega-pixel camera. Lemme tell ya, this thing is pretty spiffy! It's got a 2" LCD (which was the biggest we saw on any camera), and an AMAZING form-factor. Another interesting feature is that it doesn't take regular batteries, but instead takes some sort of LiOn rechargable battery, necessitating the use of a docking cradle (which also has USB support). All in all, a pretty nifty thing (though if anything happens to the cradle or the battery, we're screwed). Although we managed to score a new camera (fully charged, so we got to take pictures and all), we had the next hurdle of grabbing the winME drivers for the sucker. See the thing is, we're travelling with this "super-slim" Sony Vaio laptop I got 4 years ago, which doesn't have a built-in cdrom or floppy device. The only way to get data onto the laptop is through some network connection... that's fine and dandy when you're at home, or when you can hop online using AOL in the States, but out here in Germany there ain't many places that let you get online with your own laptop. Luckily, a very helpful employee at the Odysee Globetrotter Hostel (where we stayed) let us get online via their LAN. He had a clue, and I managed to use old sysadmin skills to convince him that *I* wasn't clueless either and that I wouldn't abuse their network connection. So to make a long story longer, I managed to grab the drivers, and that's why you can see pictures on this page instead of some disclaimer about how we won't have pictures for a long time or something.... btw, a big thanks to the guy who helped us out.

Now, being a foodie, lemme tell you a bit about the food we had in Berlin. We got to try different sausages for lunch -- essentially a long hotdog weiner in a very tiny bun (basically big enough to hold in 2 fingers), similar to what we had in Dresden. For dinner though, we actually got some damn good Italian food on a couple of occasions. One night it was pizza and salad -- both huge and very, very tasty (not to mention cheap! 12 Euros for beer, pizza and salad, with stuff left over afterwards), Another night it was Rigatonni and pizza, also very good and inexpensive. During our last night in Berlin I finally did something useful for us -- during our time in Germany Daria has been the one who has ordered food, talked to people and handled all social interactions, because she speaks German and I'm a timid little guy. However, on the last night in town, we went to an Indian restaurant, specifically a Punjabi Imbiss (fastfood), where I ordered some dal and chole-bhaturas for us -- giving me a chance to practice my hindi skills for our trip to India. A very popular fast food item in Germany these days are donner kebabs, which are these Turkish sandwiches that contain grilled meat (chicken generally), lettuce, onions, and a Tahini-like sauce in either bread or a pita. Pretty tasty in my humble opinion -- if you like shawermas, you should definitely check 'em out. That's my 2 cents worth as an amateur food critic. Oh yeah, before I forget, Germans have really awesome bakeries all over the place, with plenty of tasty pastries for breakfast and coffee time.

As diligent tourists, we got to see all the famous sights of Berlin: the Reichstag -- the seat of German government, known to Soviet-born children as the place where Russians put the flag upon taking over Berlin in May 1945; the Rathaus -- Berlin City Hall, where the municipal government is located; the Fernsehturm -- enormous TV tower which can be seen from any place in town, excluding itself (the tower is as ill-spoken of as the Eiffel Tower in Paris... it will probably take a few more decades for it to become accepted as an inseparable part of Berlin), and yes, of course, the Wall. There are only a few hundred meters left from the original Berlin Wall that used to separate the city into capitalist western and socialist eastern parts. One remaining portion of the wall in the east sector of Berlin was covered with artistic expression back in 1990, around reunification time, and some graffiti has been restored to its original condition in 2000 (unfortunately, most wall paintings are peeling off). There you can see peace manifests and modern art pieces with differing degrees of comprehensibility, aided by newer graffiti of "Lisa loves Bobby" and "We were here" variety. My personal favourites were a picture of a Volkswagen car breaking through the wall, several wall fragments splattered with colored handprints, and a painting of sunset behind barbed wire. The photo below depicts a different surviving fragment of the original Berlin Wall, without any graffiti. It's located next to a site where headquarters of SS and Gestapo used to be located since 1930s until the end of WWII when they were bombed into oblivion. The place is now dedicated to a permanent exhibition "Topography of terror" that tells the history of SS, Gestapo, and WWII through pictures, exhibits (only German language) and audioguides (English available). Word of warning: the exhibition is quite depressing, owing to the nature of the subject material, and open-air, which means that by the end of the hour-long tour your freezing limbs, ears and nose threaten to fall off, at least if you go there at 5pm on a cold sunless October day.

A more cheerful open-air event that we were lucky to witness was the United Buddy Bears exhibition which is currently in Berlin but will be travelling to other major cities of the world. The 130+ statues of bears were painted by artists from, I guess, all countries of the world... there were some which I, to my great shame, had never heard of! The US bear was easily recognizable by its ugly likeness to the Statue of Liberty, while the Russian bear looked so modern-artsy that I would never have spotted it as my national bear if not for the explanatory plaque. The bears were tons of fun to behold! Please do yourself a favor, look up the schedule of this moving exhibition at www.united-buddy-bears.com and go see the bears when they come to your town.

Pictures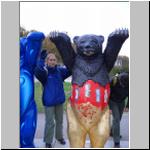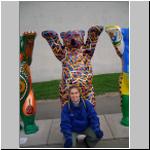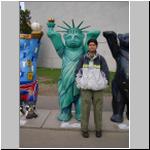 Images from the United Buddy Bears exhibition taking place in Berlin. There were these painted bears done by artists from over 130 countries, which benefit UNICEF. See http://www.united-buddy-bears.com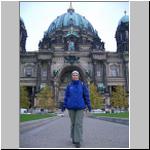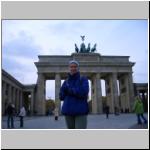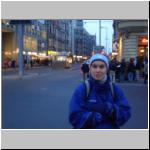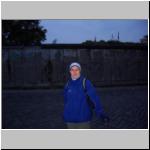 Some famous sites from Berlin, including the Berliner Dome, the Brandenburg Gate, Checkpoint Charlie (US Army checkpoint from WWII) and of course, the Berlin Wall.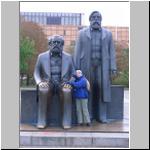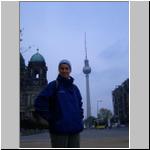 Daria at a few more interesting land marks.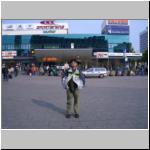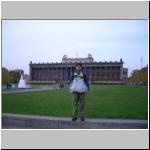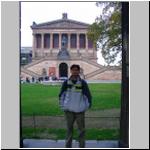 Puneet at some interesting sites in Berlin. We bought our Casio camera at the Saturn store in Alexanderplatz (Alexander Square named after the Russian Tsar that visited Berlin). The Altes Museum (Old museum) had a lot of Greek antiquity architectural works, while the Art Museum (I'll have the name in the blog) housed some interesting art works.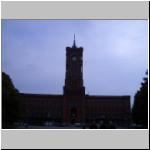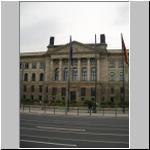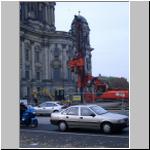 Some views of Berlin -- a city under reconstruction.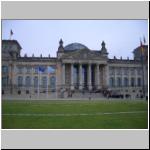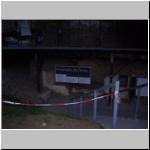 The impressive Reichstag, including all of the impressive cars for the dignitaries (expensive looking BMWs and Mercedez-Benzs). The Topogrophie of Terror is an open-air exhibit built at the site of the former SS headquarters at Prince Albert Street, which was the epicienter for the Nazi terror machine in the years before and during World War II.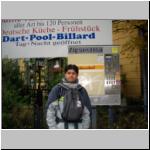 Did I mention that Germany is a smoker's heaven? It seemed like nearly everyone there was smoking, and as a testament to the deep need for this activity, there are cigarette vending machines ALL over the place. In fact, I noticed a vending machine about 5 feet away from a little kiosk (which also sold cigarettes) just to give people the chance to buy a pack of smokes at 4AM when everything else is closed. These machines exist in restaurants, cafes, bars, hostels, and as shown in this picture, at the corners of random streets.