Tall blond Swedes? (10/23/03)

Last updated 10/25/03
---
After visiting Stockholm I can attest to the truth of the common belief that Swedes are tall and blond. Indeed, the majority of population on the streets of the Swedish capital was half a head taller than the two of us, and I used to have a complex about my height when growing up since I was always the 3d tallest girl in class! The blond factor was also apparent, although all the traffic cops we saw on the streets refused to adher to the stereotype and were instead dark-haired and often Asian. Now, the saying that people get used to the climate they live in and stop noticing, for instance, the freezing cold, is completely wrong. With the exception of one near-naked crazy-looking bearded potbellied man dancing on the street, and a garbage pickup guy in shorts, everyone was dressed for the weather, which means warm jacket, hats (even the furry ones!), monster gloves, and red noses. Given the subzero (centigrade) temperatures and a thin layer of snow frozen to the ground, this seemed fitting.

From my only previous trip to Stockholm after high school I remembered, or thought I remembered, the amazing, fairy-tale-like beauty of the Old Town area, "Gamla Stan" in Swedish. I was looking forward to walking again on the very narrow streets paved with cobblestone, staring upwards at the frivolous rooftops with dozens of chimneys and imagining that hidden behind one of them may be the house of Karlsson Who Lives on the Roof. Footnote for the poor deprived American children: Karlsson is a character from kids' books by a marvellous Swedish writer Astrid Lindgren, he's a chubby little man who can fly thanks to the propeller on his back. Anyhow, let me just drop the ball of disappointment and be done with it: I did not find the place I remembered anywhere in Stockholm! Yes, the streets of Gamla Stan are cobbled and narrow (see Puneet with outstretched arms touching both walls of one such street in the picture), and buildings are lovely and colorful, but they are not the stuff of fairy tale I was hoping to see. It's quite possible that my memory decorated the Old Town beyond all feasibility, or else the place I'd been to really exists but we somehow missed it on this visit. Setting aside my improper expectations, I must say that Gamla Stan is beatiful, and even the tourist kitch in the shopwindows cannot spoil its old-timer charm. A special treat awaited us in the courtyard of the "new" royal palace, built in 17th century in place of the burned-down Tre Kronor, the legendary seat of the Swedish dynasty. We walked in right as some ceremony involving the royal guards was taking place, so we stayed to watch, expecting at best a change of guards, and found ourselves witnessing yet another royal procession! This time, unlike in Copenhagen, we did not get to see any actual royalty; inside the horse-drawn carriage that rolled into the yard escorted by liveried horsemen, we observed Asian faces and believed them to be foreign dignitaries being welcomed to Sweden. The country is a constitutional monarchy, by the way. They seem to be fond of this political arrangement in Scandinavia, with Norway and Denmark also keeping their monarchs firmly in place. And why not? Royal ceremonies are much more fun to look at than merely presidential ones.

On our long walk around Stockholm we observed many beatiful buildings including such marvels of architecture as Riddarholmskyrken (former church, now royal necropolis, see pictures) with its lace spire, and the magnificent in its size and impregnable looks castle of Nordiska Museum. The castle looked ancient and very impressive in that young-prince-conquering-the-dragon-to-save-the-imprisoned-beaty kind of way, and I was shocked to discover from the guide book that it had been built not nearly a hundred years ago, in 1907. I prefer to think that was a typo. The multitude of old, or at least old-looking, buildings conspires to give Stockholm a sense of continuity in time that most US cities sorely miss. Nevertheless, there is plenty of modern architecture in the downtown area, and it manages not to look out of place. The final unique touch on the portrait of Stockholm is the sheer quantity of water that surrounds and intersects the city; most of Stockholm is actually built on islands, and ships (from small joyride boats to huge Sweden-Finland ferries) abound on the waterfront in city center. As a matter of fact, our hotel was itself a boat! A small cruise ship "Rygerfjord", converted into a hotel/hostel and permanently docked in Riddarfjaerden bay, provided us with quite cramped and slightly rocking waterborn quarters for our two nights in Stockholm. Let's say, this type of accomodation is not for claustrophobic people... but highly advised as testing grounds for adventureous souls who dream of a sailing career (we discovered that we don't).

Pictures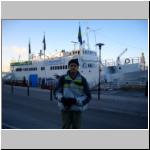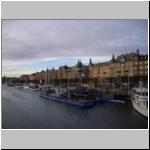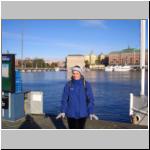 Water... Stockholm is built on islands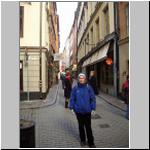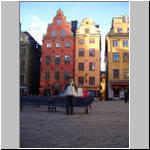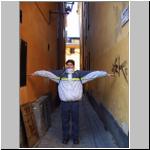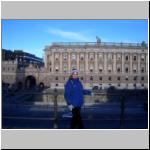 Gamla Stan, or the Old Town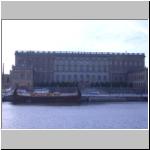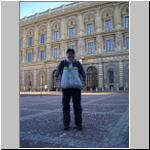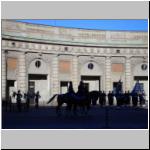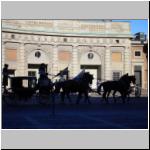 Royal palace welcomes some unknown VIP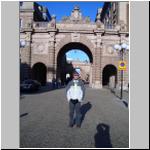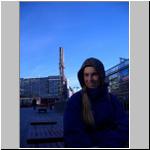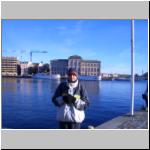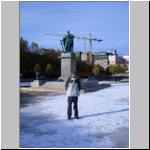 Different faces of Stockholm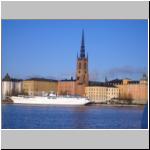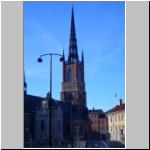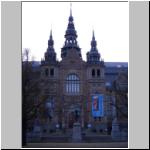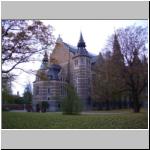 Impressive buildings on Riddarholmen and Djurgarden islands, now housing a royal necropolis and Swedish art/history/life collections, respectively