Viking legacy in Oslo and around (10/25/03)

Last updated 12/01/03
---



Norway, the homeland of vikings, welcomed us with such hospitality that we couldn't help staying for a few days longer than planned (infinitely longer, to be mathematically precise, since we did not plan on going to Oslo at all).

During the initial planning of our trip to the Scandinavian countries we were all set on visiting Finland, where Daria had spent a few months at the University of Vaasa (undergraduate study abroad program). However after looking at the various transportation options (ferry from Stockholm to Helsinki being the major contender), we realized that we would end up spending over 2 days on just travel there and back (over 48 hours). Instead of Helsinki we decided to visit Oslo (Norway), which, until some time in the recent past, I had thought was located in Germany (and they say that the American education system is a failure...).

Visiting Oslo turned out to be the highpoint of our Scandinavian trip (no offense to Queen Margaret of Denmark, or the Rygerfjord, our ferry-boat-turned-hotel in Stockholm); after all there is little in this world that can compete with sweet, brown, goat-cheese.

(See comments to the picture of cheese below for clues.)

Supposedly Oslo is the most expensive city in the Scandinavian region, but we discovered cheap accomodations in a B&B with an awesome view of the city. Due to the location of the B&B (the immigrant district of Oslo), we also managed to find cheap meals -- I think Turkish food has overtaken all of Europe by now as there is no place out there where you can't find donner kebabs, shawerma, or falafels.

Oslo offered a little bit of everything during our trip: beautiful architecture, a playful romp in the leaves at the Slottsparken, a local fortress (the Akershus) , excavated Viking ships at the Viking museum on BygDøy peninsula

-- the ships were used as burial vessels for wealthy people and were actually buried in clay which had remarkable preservative properties (leather preserved for over 1000 years), and even an entire open air Folk museum (

Norsk Folkemuseum)

which housed over 150 Norwegian homes from different eras.

The oldest of Scandinavia's capitals, Oslo is just 45 years short of its millenium birthday, being founded by Harald Hardrada in 1048. The original wooden buildings all burned down during the fire of 1624, and the entire city was rebuilt a little bit off its first location by the Danish king Christian IV (Norway was then in a union with Denmark) who renamed it Christiania after his royal self. Later Norway was ceded to Sweden and regained independence only in 1905, but Oslo didn't reinstate its original name until 1925.

Norway is still a kingdom, and the official residence of the king is at Det Kongelige Slott (the royal palace) in Oslo. The palace building is not particularly remarkable, other than for a good view of Karl Johans Gate -- the city's main street that extends down from the palace hill, but the surrounding park is nice and leafy. The city's military stronghold -- Akershus Festning (fortress), strategically positioned over the harbor of Oslofjord -- creates a more impressive presence with its medieval front (thick walls, towers, cannons, even a drawbridge). The king Christian IV exerted his power ower this building as well, renovating it into a Renaissance palace on the inside which we didn't get to see because of the castle's short hours in winter season. However, medieval exterior was all we cared about, plus awesome views of the fjord (bay) of Oslo from the fortress grounds.

The city offers many cultural delights; in addition to the above-mentioned Folk museum, we visited the National Gallery which houses a large art collection of Norwegian as well as other European paintings, including the famous "Scream" by Edvard Munch.

Oslo also has a wonderful park (

Frognerparken) with plenty of statues by Gustav Vigeland, which displayed a wide range of human emotions (see pics) and a partially-frozen lake with ducks (did I mention that I LOVE ducks? they're so darn cute). From bawling babies, to goat-cheese, to Viking ships, to homes with legs (much like the Russian witch homes that Daria has shown me in Russian fairy tales), we got to see it all in the capital of Norway (didn't even have to leave the city for all of that!).

Having enjoyed the sights of Oslo, we went on a scenic journey to Bergen via train, ferry and bus to look at the fjords. For those of you who don't know, fjords are these places where the sea cuts into the land in narrow, long, finger-shaped inlets. I read about the fjords of Norway in the works by Douglas Adams and was expecting something magnificent. The reality turned out to be a bit dull and disappointing in comparison to my hopes (which is usually the case),

but I think it was still worthwhile to get a first-hand experience of the much-hyped fjords.

The journey started with taking a train for about 5 hours from Oslo to Myrdal, during which time we observed magnificent landscapes which progressed, with increasing altitude, from low-lying hills and lakes to entirely frozen lakes, snow-capped peaks and snowed-over plains. The following 20-kilometer train ride from Myrdal (altitude 866 meters) to Flam (2 meters above sea level) took about an hour (do a quick calculation of how steep the railway track's incline is!) and blew my mind away with the beauty of mountainous landscapes with innumerable waterfalls. The majestic Kjosfossen waterfall (see picture) was running full force at the time of our visit, but many others were partially or even entirely frozen. Upon arrival in Flam we boarded a small ferry boat which took us through Aurlandsfjorden and Naeroeyfjorden (extensions of Sognefjorden, Norway's longest fjord at 204 km and its deepest at 1308 meters). These fjords are squeezed into thin gashes (only 250 meters across at the narrowest point) by towering snow-capped mountains, and the view of rocks reflected in water and seagulls is indeed attractive for the first five munites, but stops being very entertaining shortly afterwards, making for a dull hour and a half on the boat. It got worse when it started to rain and the fjord's rocky walls became all but invisible. Our main distractions during the ferry ride were the sights of (a) Asian tourists aboard the ferry taking pictures of each other ceaselessly,

and (b) many "villages" in the mountains which consisted of just a few homes and had a population of about 5 or 6 "old people" as stated by the tour guide. The ferry cruise was followed by a supposedly scenic bus ride on a mountainous road, but due to the winter conditions it got dark quite early and the ride took place entirely in the dark.

We advise travellers who might follow in our footsteps to just take the train from Myrdal to Flam, take one look at the fjord there and head back without a boat cruise, thus enjoying the amazing nature views from the train first on the way down to the fjords, and then in ascending order on the return trip.



Pictures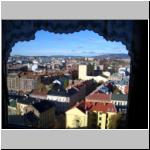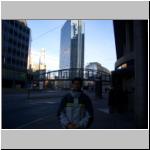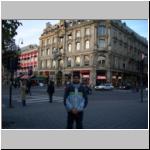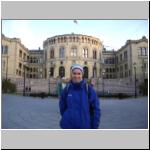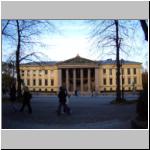 Views of Oslo city center, from modern skyscrapers of steel and glass, to beatiful classic architecture that would be at home in Paris or St.Petersburg.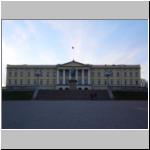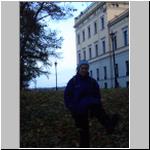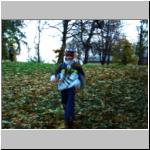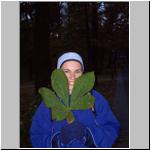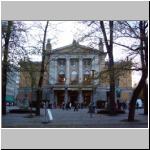 Good old-fashioned fun in the Slottsparken, a nice leafy park around the royal palace of Norwegian kings. Yes, they still have a king.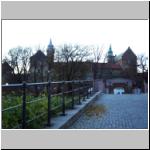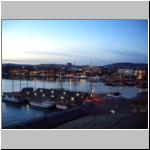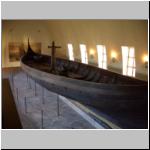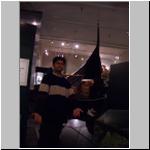 Imagine yourself in the Viking era (9-11 century AD) or in the later medieval times in Christian Norway when Oslo was renamed into Christiania.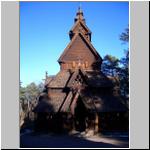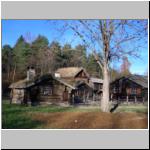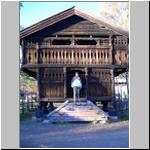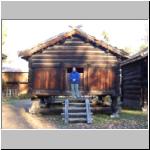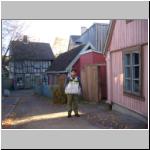 Walking around the wonderful Norsk Folkemuseum where 155 authentic old Norwegian houses are displayed in park-like natural setting.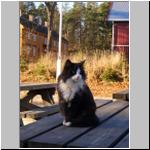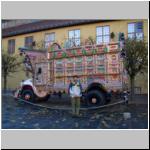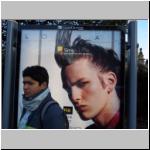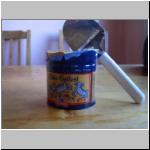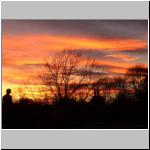 Assorted oddities of Oslo life, from cheese that tastes like boiled condensed milk (don't ask... Russian specialty) to breathtaking sunset colors.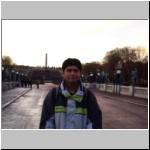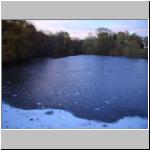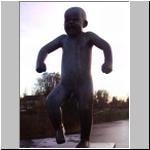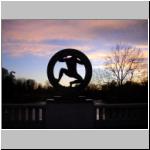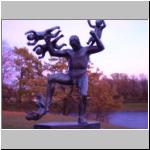 Curious life-sized statues portraying human emotions by Gustav Vigeland, a genius Norwegian sculptor, line the main alley in Frognerparken.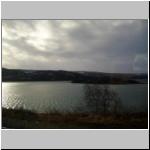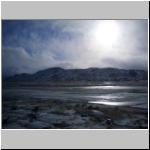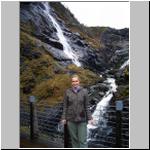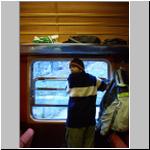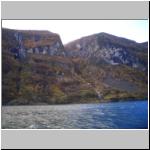 Nature views seen along our train+boat+bus westward journey from Oslo to Bergen... waterfalls (running and frozen), mountains and fjords abound.