Hand Throwing in
Antwerpen

(11/04/03)


Last updated 12/16/03



---

Possessing perhaps the most beautiful train station in the world, the city of Antwerp (

Antwerpen

), in the Flemish region of Flanders, was our first encounter with Belgian soil (actually I keep a little bit of the stuff at home for our tomatoes, just kidding of course). Daria fell in love with the train station at first sight. I believe her exact words were: "Can you believe they did all this just for a train station???". With an inside adorned with a high-arching clear glass ceiling, marble columns and guilding befitting a museum, and a gothic exterior to rival a cathedral, its obvious that the architect of the train station at Antwerp went well above the call of duty. Marvelling at the wonders offered by the train station alone, we strolled out into the second largest city in Belgium to see what other treasures Antwerp had in store for us...

Our tour of Antwerp began at the Grote Markt, both the literal and figurative center of the city. This main square (shown in the pictures below) is noteworthy both for the many 19th century guildhouses lining square and for the central Brabo Fountain. The fountain, built in 1887, derives its name from the tale of the Roman warrior Silvius Brabo. He supposedly killed a river-dwelling giant who had demanded a toll from passing shipmasters, or one of their hands if they refused. In the process of slaying the giant, Brabo sliced off one of the giants hands and threw it in the Scheldt River. The term

hand werpen

, or "hand throwing", eventually became the Flemish name for the town --

Antwerpen

.

The city, built along the banks of the Scheldt River, has a bustling port which handles 121 million tons of goods each year and was, at one point in the 20th century, the third largest port in the world. We avoided the industrialized port area, with its slew of cranes and warehouses, and instead took an evening stroll along the River promenade to a fairy-tale castle with a sculpture of a giant out front and a picturesque view of the river at the back.

Another facinating landmark in Antwerp is Onze Lieve Vrouwkathedraal (Cathedral of Our Lady), with its 120m tall spire, which happens to be Belgium's largest cathedral. The cathedral was built between the 14th and 16th centuries (actual construction took 170 years) on the site of a small 10th century chapel which honored the Virgin. The cathedral is notable for its possession of 4 masterpieces by the famous Flemish (actually from Antwerp) Baroque painter Peter Paul Rubens, who specifically made 3 of the paintings for the church.

The sight-seeing in Antwerp, combined with a stay at a beautiful bed-and-breakfast in town, provided a very nice introduction to Belgium.

Pictures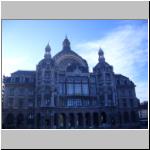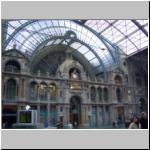 They have a really beautiful train station in Antwerp.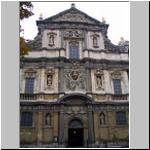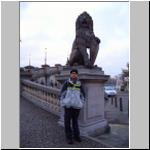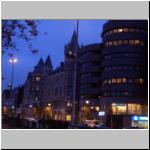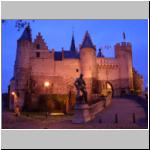 Lovely riverfront promenade with a castle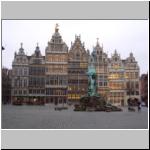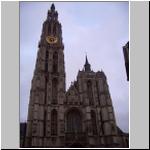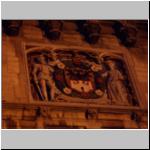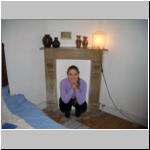 And other city views...