Romantic Brugges (11/05/03)

Last updated 11/30/03
---
Brugges is the most romantic town a girl can have the good luck of visiting with her true love. Everywhere she turns her head, she will see winding medieval streets, lovely 3-story houses with triangular rooftops, turrets and towers, canals and bridges, palaces and windmills. Lace shops are as abundant as chocolate and candy stores, a lively produce market takes place (quite appropriately) on the Markt square, the bells toll the hour on the belltower of the city hall, the moon leans over to admire its reflection in the Lover's Lake at night, the white swans move proudly among fallen leaves in the water of the canals, horses pull ornate carriages on the cobbled pavement, the windmills spread their arms to embrace you as a dear guest, impress Brugges on your soul, and never let romance find its way out of your life.

Brugges is truly incredible in its fairy-tale appearance, quaint old-fashioned ways, and sheer romantic atmosphere. Where else could you walk the streets, taking random turns, and keep seeing a gothic castle here, a medieval town gate there, a windmill over on your left, a lovely curved bridge up ahead? Where else could you order a simple cup of tea at a cafe and be brought a silver tray with the tea kettle, a jug of hot milk, a chocolate on the side, whipped cream and ice cream? Where else can the fall season put spring back in your heart, where else can you breathe the stuff of dreams? Imagine Disneyland the way you saw it as a child, with not a single fake note in it; Brugges is like that, but better.

If you find yourself in Belgium, be sure to come to Brugges and just walk without regard to maps and sight-seeing. When you've had your fill of fairy tales, walk it all over again and pause in a few places of interest. Markt square has the Belfry tower with a carillon of 47 bells that plays wonderful tunes; the government palace of neo-gothic 19th century style is also here, as are multiple pricey cafes that provide a great view of the square and the public market taking place here on most days. Brugges also has a daily fish market that you may want to avoid if aromas of fresh fish and seafood may spoil the romantic mood for you. The nearby Burg square has the City Hall, a gothic 14th-century building, the Renaissance structures of the Old Recorder's House and the Old Country House (16th century), and the baroque 17th-century Provost's House. All of them are administrative buildings, but you wouldn't know that from looking at them -- royal palaces is what comes to mind.

Do not miss another building, much less impressive on the exterior but rich in history: House Ter Beurze on Vlamingstraat 35, where local and foreign merchants came together to make deals and negotiate prices. The name of the mercantile clan who owned the house (Van der Beurze) gave rise to the Dutch word "beurs", meaning "exchange house", "trading place", which was imported into many European language to mean "stock exchange". Thus, the first stock exchange in the world was located here in Brugges, back in the day when the town was an important commercial and industrial center, instead of a sleepy touristy place. Here's an abridged version of Brugges history for you... From the 11th century until 1604, Brugges was an international commercial port, having access to the sea via a canal that later silted up, cutting off sea trade. In the middle ages Brugges produced high-quality cloth for export all over Europe, and was known for its lace. In the 15th century, the province of Flanders passed to the Burgundian state, and Brugges became the favourite residence of the Dukes of Burgundy, under whom arts and banking flourished here. By the end of 15th century, the golden age of Brugges was over, although it kept its position as a centre of luxury good production and arts into the period of Spanish domination. Ruled by Austria, then France, then Netherlands, Brugges became increasingly more poor, and only revived its reputation as a city of arts and has grown as a tourist center in late 20th century, and has been named to the list of World Heritage by the UNESCO in 2000.

When walking around Brugges, make your way to Minnewater -- the Lake of Love, which is equally mesmerizing in full daylight or on a moonlit night. The park of the same name is nice for strolling hand-in-hand with your significant other, but then again, isn't all of Brugges? Be sure to get to the outskirts of the old town where the town gates still stand: Smedenpoort (Blacksmith's Gate; notice the small skull hanging on it as a reminder of treachery of a Ghent citizen who in 1688 let the French invaders in through the gates), Gentpoort, Kruispoort (Cross Gate) and Ezelpoort (Donkey's Gate). These old city gates used to be part of the medieval ramparts around Brugges from 13-14th century, and now they are connected by a greenbelt -- a ring of parks and canals. Beyond Kruispoort on the east end of town one will see several windmills, one of which is sometimes still in use.

Don't forget to stop at some cafe or "tea salon" for Belgian waffles and wonderful chocolate creations of Brugges!


Pictures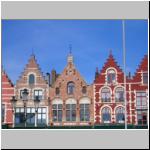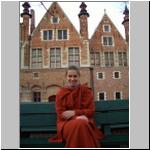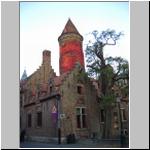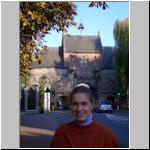 Typical buildings, every one so pretty!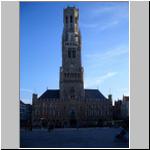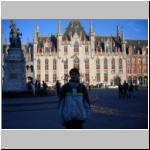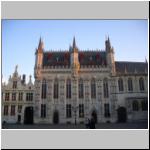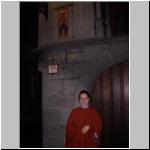 On and around Markt square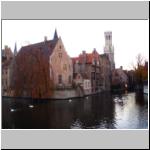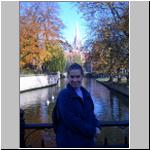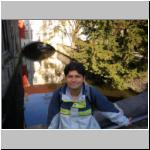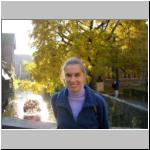 Brugges as a little northern Venice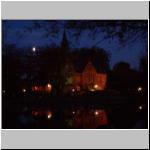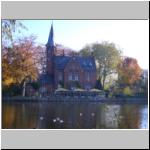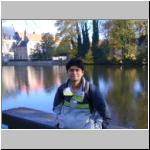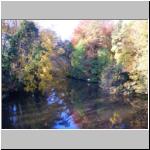 More water views: lakes and ponds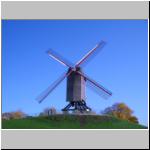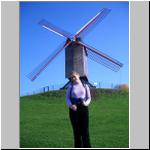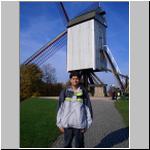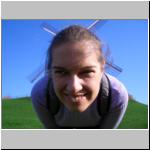 Windmills in Brugges