Strasbourg (11/12/03)

Last updated 12/16/03
---

Strasbourg in the Alsace region of France, is just a few kilometers west of the Rhine River, which separates France from Germany. The city benefits from a mix of French and German influences in various facets of life: from the French and German signs throughout town, to the food which includes traditional French cuisine and frothy German beers, and even the architecture which combines pretty canals reminiscent of Paris and a gothic cathedral which would look at home anywhere in Germany, not to mention the cute homes which look like they were taken from rural German villages. It's a testament to the fluid mixing of both cultures that we could visit l'Academie de la Biere (Beer academy) for some tasty beer-cocktails, which is certainly more Germanic than French in nature, while strolling through the narrow lanes of "Petite Paris" (little Paris).

We spent a majority of our time taking in the sights and sounds of life on the Grande Île towns (Large Island), including the magnificent Cathédrale Notre Dame. It was our first encounter with a cathedral named Notre Dame (i.e. Cathedral of Our Lady, a very popular name for cathedrals in France), but we were to encounter several more Notre Dame cathedrals in France. In fact, we encountered a cathedral of that name in four straight cities, beginning with Strasbourg (including the most famous one in Paris), but I believe the one in Strasbourg to be the most impressive of them all. The construction of the cathedral begain in 1176 and the west facade was completed in 1284, while the tall gothic spire was not finished until 1439. The pictures below show the portions of the church which were currently spared from reconstruction efforts (have I mentioned that reconstruction is a theme of our travels?), including the gothic tower with its spire that soars 142m in the air. The cathedral also has an astronomical clock which goes through its motions at 12:30pm with an introductory explanation about its creators and the construction process. While the clock was pretty neat, I thought that the one in Prague was more impressive and cooler because it was located on the outside facade of the church (not to mention that it was free!).

Aside from the cathedral, Grande Île also contains the Petite France region of town. This region (location of the Beer Academy) consists of narrow lanes, bridges, canals and half-timbered houses which give the region a fairy-tale feel. We even came across several large, medieval-looking towers, which further entrenched the fairy-tale qualities of the region in my mind (because you see castles have towers just like that, and there are usually plenty of castles in fairy-tales, so there you go). I think we spent a good 2 hours strolling through the pretty streets and embankments looking for fairies, giants, wizards and trolls, or anything else that would confirm our belief in the supernatural qualities of our surroundings.

It was in Petite France that we also had an interesting lunch experience where we each ordered a "tarte flambee" (nearly all restaurants in town were advertising them, but we had no idea exactly what they were). As it turns out, a tarte flambee is simply a thin-crust pizza, quite similar to the pizzas that are available in Italy, albeit with even less cheese. Combine one of these with a glass of nice red wine (I think pretty much anything other than a Bordeaux wine is good red wine!) and you have the makings of a sumptuous lunch. I wish I could say that all gastronomic experiences in Strasbourg were pleasant, but when it comes to coffee, I think the French have quite a bit to learn. To begin with, American-style brewed coffee is simply unavailable at most places (I have yet to find a cafe that has it), The French idea of coffee is a small, spit's worth of espresso served in a tiny espresso glass, for the wonderful price of 2 euros. If you decide you want to actually sit down at a table for this coffee, you may find yourself paying twice as much as you would have paid to enjoy your drink standing at the counter. If you want more liquid, you can try to convince your waiter to dump some hot water into your espresso to make an americano, or you can shell out some more cash for a double shot (2 sips worth that can still leave you begging for more). Coffee gripes aside, Strasbourg provided a nice gentle re-introduction to France for both of us.


Pictures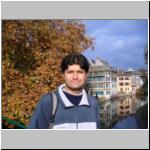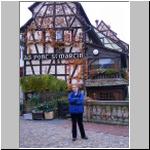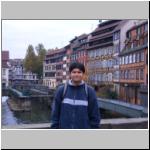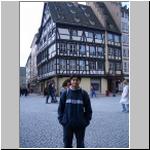 Half-timber houses give the old town area of Strasbourg (including the exceedingly lovely Petite France quarter with its little bridges over canals) a fairy-tale look that even cloudy weather can't mar.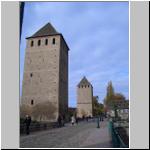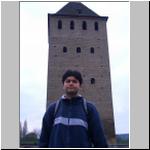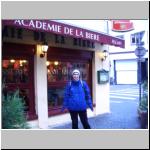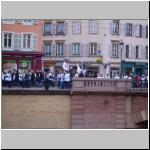 Petite France is good for walking around, admiring the ancient towers, having an odd beer -- or, odder yet, a beer-based cocktail with apple or coconut liquor!... Also not a bad place for student protest marches; pity that we couldn't find out what exactly the protesters wanted.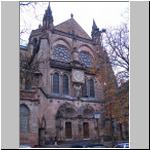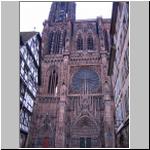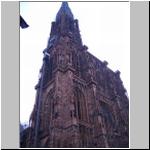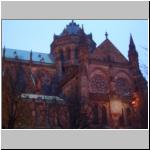 Cathedral Notre Dame, inside and out