Bordeaux -- isn't that French for "bitter wine"? (11/19/03)

Last updated 11/30/03
---

Bordeaux is a region in France famous for its extensive wine production that rivals the great wine country in Napa Valley (though I'm sure both sides would scoff at the competitive comparison). It wasn't until my wine tasting in Bordeaux that I discovered (or re-remembered since I've had Bordeaux wine some time in the past) the incredibly bitter taste present in most (ie: cheap or inexpensive) Bordeaux wines. For my money I'm certain I'd go with a Sonoma Merlot any day...

Tip: if you are going to have Bordeaux wine, especially the upscale well-aged kind, try not to shake the bottle at all, since Bordeaux, unlike many other wines, tends to contain a lot of sediment. Keep the bottle lying on its side, do not tilt for several hours, then remove the cork without changing the bottle's position and slowly, carefully pour the wine into a decanter while holding a lit candle under the neck of the bottle, so you can see that the sediment stays in the bottle. The candle trick is only performed with Bordeaux wines, it seems, although I fail to see why you shouldn't show off and do it with any bottle you've got. After decanting, let the wine sit and air itself out for 4-5 hours; that will get rid of the unpleasant bitterness and open up the bouquet of your Bordeaux. Enjoy with a platter of ham and cheese or other exquisite finger food you can get your hands on. And if all this seems like too much trouble, well, maybe we should all just support the local producers and stick to Californian wines.



Bordeaux is France's vastest area of vineyards of fine wines, with its 120,000 hectares of vines, broken up into 57 appellations (controlled growth areas, each with its own climate and soil conditions and wine-making rules). One job out of six in the Gironde river region is in the winemaking industry. The annual production of Bordeaux stands at 800 million bottles, 85% being red and rose wines (yes, they make whites in Bordeaux too, but shamefacedly). Red wines, the hallmark of Bordeaux, are made mostly from 3 varietals: Merlot (brings alcoholic strength, softness and roundness to the wine), Cabernet Sauvignon (rich tannins, complex bouquet), and Cabernet Franc (powerful wines with subtle aromas). The whites are made from Sauvignon, Semillon and Muscadelle varietals; winemakers in Bordeaux are not allowed to grow Chardonnay grapes, to preserve the traditions of the region. The rules of producing wines under Bordeaux label compel the makers to mix different varieties of grapes; no Bordeaux wine can be made from a single sort of grape, it must be blended. Another restriction involves watering the vineyards: once a vineyard starts producing grapes (4th year of growth), it cannot be artificially watered, all moisture comes from natural rain. This differs from Californian winemaking tradition wherein all vineyards are watered, otherwise they'd dry up, given the climate, and wines are often made from a single grape varietal (e.g. Chardonnay).

Most of this peculiar trivia we learned during the wine tasting from our guide; other curious information was obtained on our visit to "Le Musee des Chartrons", a wine museum housed in vaulted cellars dating from 1720. The cellars have always been used to age wine in French oak barrels, and the building above them housed bottling, corking, sealing and labelling operations. We observed a number of interesting tools of the trade and found out a few things about wine making thanks to (or maybe in spite of) the English-language brochure provided by the museum. The translation from the original French confused matters quite a bit, but I think I got it right that at some point during the 3-year wine aging process, raw eggs are added to the barrel with the idea of coagulating the sediments with the egg white and filtering the wine in this original manner.

Another interesting tidbit of information concerned a certain wine trader back in the 18th century who sent a shipload of wine barrels to India to be exchanged for other goods, but for whatever reason his cargo never reached India and returned to France some seven months later. The owner opened a barrel to see what happened to the wine during the sea voyage and found, to his pleasant surprise, that the wine was aged perfectly, much better so than in his own cellars, due to specific temperature and humidity conditions on the cargo deck of the ship, and the constant tilting of the barrels with the ship's movement. The wine was in fact so enjoyable that the trader sent the next cargo load to India and back on purpose, and started selling the wine under a specific label "returned from India" which was a great success.

The wine museum also opened my mind to the idea that wine was not always sold in bottles; in fact, until late 17th century bottles were only used for serving purposes, i.e. wine was bottled right before putting it on the table. It was sold by the barrel instead, and nearly everybody had a cellar in their house where barrels could be stored. The introduction of the bottle expanded the market for wine because the buyer no longer needed to have a wine cellar in order to enjoy the wine, and families with lower incomes could afford the drink on more regular basis. So much so that the average daily consumption of wine in France in 18-19th century used to be between 5 and 6 liters per person!



One tidbit that I'd like to throw in is our culinary experience at the Сasolette Café in Bordeaux. Here we were treated to several small dishes (one with grilled eggplants, another was a vegetable omlette and yet another was a tomato stuffed with a vegetable mixture and topped with cheese) served in cassolettes (terracotta plates). The portion of each dish, the price and the different available foods reminded me of a tapas bar we had visited in Berkelely, and more recently in Spain. Oh, by the way, the food at the

Сasolette Café was very good and I'd highly recommend this place if you're looking for some interesting food place in Bordeaux.



Pictures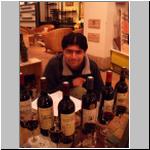 We went to a special "wine tasting" bar where we got to sample some of the local wine... it appears that more expensive Bordeaux tastes nicer -- usually the price of the wine has little impact on its taste for me, but Bordeaux is an exception. I think the reason is that older Bordeaux (ie: more expensive) tends to have a smoother, less alcoholic taste than newer Bordeaux, but that's just a guess on my part.

Our second wine tasting experience, conducted at the cheese specialty restaurant "Baud et Millet" under supervision of a guide, was much more enjoyable, because the wines were allowed to air in the glass for some half an hour before drinking, and that made them much smoother, albeit still slightly bitter; the bitterness must be "the thing" about Bordeaux wines that we, Californians with our spoiled palate, may not appreciate. However, one cannot fail to be impressed by the selection of cheeses we could pick from to accompany our wines: about a hundred different types, all in a temperature/humidity-controlled cellar! French cheeses, like wines, are also goverened by different rules than in the USA: the cheeses we tried were unpasteurised, which would be illegal in the States, but certainly adds a lot of flavour.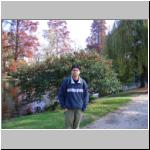 Bordeaux also has a very nice park in town... Created by the Intendant Tourny, the "Jardin Public" houses the natural history museum and botanical gardens, in addition to a number of paths under leafy trees and a pond with ducks and swans.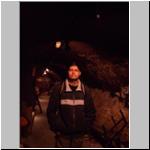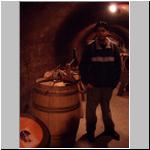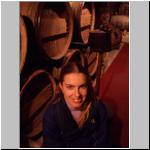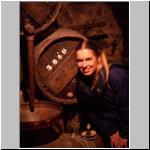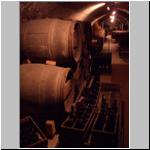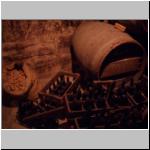 We visited a wine museum "Musee Des Chartrons" which was housed in a former wine bottling "plant" (can't think of a better term since they didn't have a vineyard, but only cellars and wine bottling operations). We got to see the cellars where wine was initially aged in oak barrels, then transfered to glass bottles, and eventually, in another portion of the building, labelled (a fairly time and labor intensive process in those days) and packaged into crates for shipment.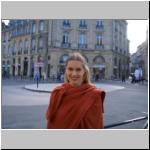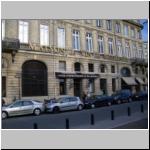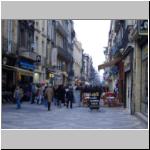 Examples of Bordeaux buildings: classic architectural style, Parisian in its simple, elegant lines, yet a bit on the dirty side, lacking in maintenance... too bad. Notice the bustling life on St. Catherine street, which is mainly pedestrian but sometimes dangerously crossed by automobile traffic. It seems that this 2-km stretch is where the entire town goes for their promenade (at all times of day and night); shopping and fast food opportunities abound.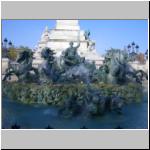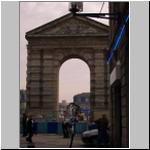 Bordeaux happens to contain one of Europe's largest squares: esplanade des Quinconces, 12 hectares in size, on the bank of Garonne river. This is where a huge fountain stands to commemorate the Girondins (moderate bourgeois deputies executed during the French Revolution) and the Republic. The fountain was taken down mid-20th century to be melted down for war needs, but luckily escaped that sad fate and was recently reinstated in its proper place. The Quinconces square didn't look all that large to me, now that I think about it, because it was partially taken up by construction works, which seems to be a recurring theme of our journey and certainly of downtown Bordeaux. The picture of the gate at Place Victoire backs up my words, but believe me, there is a lot of renovation going on in Bordeaux. It seems that the current mayor is very keen on bringing the city back in shape from its current grimy condition, and to keep the residents flocking downtown even amongst all construction work, various celebrations are held there monthly or more often.