Real Madrid (11/25/03)

Last updated 11/29/03
---



Okay, so "real" in Spanish doesn't mean the opposite of "fake", it's in fact "royal". This newly acquired knowledge made us better appreciate the name of the world-famous football (um, soccer for our American audience) club. FIFA, the world governing body for the sport, even named them "the best club in the history of football"! That's nothing to sneer at, and neither is Madrid's fame as the home of corridas (bullfights) at the magnificent Las Ventas bullring on Plaza de Toros -- 22,000 seats, built in 1929 but you'd think it was a thousand years old, with its moorish architecture of pink brick and decorative Spanish tile. Add in a lot more beautiful buildings of all styles and epochs (no unified visual impression here!), tons of traffic (automobile as well as human), a good amount of confusion, noise and elbow pushing, much pride taken in Spanish language and little regard for uneducated foreigners, great food and drink (but no obvious food supermarkets, we guess everyone eats out), late nightlife and strong coffee in tiny cups, all this over a base note of a deep sense of history, and you got a semblance of Spain's capital on your plate.





Madrid combines aged history with top-of-the-line modernity like few other places do. This city still witnesses annual miracles at its countless churches (say, Monasterio de la Encarnacion proudly displays the materialization of St. Pantaleon's blood in a 1600-year-old vial every July 26th), it has working monastic orders with nuns selling pastries through a door hatch that ensures their privacy (Convento de las Carboneras), it stages regular bullfights at the Las Ventas arena (off-season they got a circus performing there), it even has a haunted house right on a main thoroughfare: Palacio de Linares. The ghost story goes like so: the 19th-century mansion was owned by a wealthy financier whose son fell in love with a shop girl. The displeased father sent him off to England but soon died, at which point his son returned and married his sweetheart. Later the couple discovered the letter proving that the girl was the rich man's illegitimate daughter, and therefore husband and wife were siblings through their father. The case was reviewed by the Pope Leon XIII who allowed the unfortunate couple to remain together on condition of being chaste for the rest of their lives... and now their sad ghosts are supposed to haunt the building. Things like that somehow merge with utterly modern conveniences (like Internet cafes at every corner) and annoyances (very heavy traffic with full disregard to pedestrians' rights) in the lively city of Madrid.



I was somewhat disappointed to find barely any Moorish architecture in town. It seems that most of the original buildings in Moorish style were demolished at some point in the past and replaced by newer architecture of any style imaginable, from barocco to skyscrapers (well, there's just a few of those, the city is mostly 4 storeys tall). The most impressive single item of Moorish legacy was, to me, the bullring Las Ventas which wasn't built until well into the 20th century... The old town with its labyrinth of narrow streets is centered around Puerto del Sol (Gateway to the Sun, a square crowned by a statue of Madrid's favourite king and mayor Carlos III who contributed a lot to the development of the city, including a sewage system) and Plaza Mayor (Main Square) which used to house all sorts of events, from bullfights to dances, and is now occupied by open markets (Christmas market in this season). By the virtue of staying at a pension in this area we got to walk a lot on the cobblestone streets (beware, slippery in the rain), see ancient squares (Plaza de la Villa, where the present town hall has been located since 1700s, used to be a market place back in the 10th century), and even discover the world's oldest restaurant. According to the Guinness book of records, Sobrino de Botin is the oldest restaurant business in the world, with continuous inn/diner establishment dating back to 1725! The place still specializes in typical Madrid dishes such as slow-roasted suckling pig and baby lamb; having eaten the lamb, we can attest to its extraordinary tenderness after being roasted in a wood-fired oven for 3 hours. Chicken casserole with vegetables was equally good (actually more enjoyable to us chicken lovers). Beautiful decor with dark-wood ceiling beams and wall tiles accentuates the sense of history in this unique place, where, as the legend has it, the young Goya washed dishes for a living in 1765. Two centuries later Hemingway dined here, and not at the neighbouring restaurants, as they scream out to the bypassers with a crooked pride: "Hemingway never ate here" is a common lure for English speakers in tourist trap cafes that surround Plaza Mayor. Well, one has to distinguish oneself somehow in this cutthroat marketplace!



Madrid did not impress me with its architecture as much as its rival city Barcelona did (no Anton Gaudi here, alas), but the interior decoration simply blew me away at the Palacio Real (the royal palace of Spanish kings). The rooms of the palace, from the imposing dining room to king's study, smoking and music rooms, are incredibly ornate. You have to believe me -- I have seen palaces of Russian tsars in St.Petersburg and naively believed for most of my life that they were the limit to how lavishly one could decorate a place, but Palacio Real stands two heads above anything the Russians ever managed.

For instance, the walls and ceiling of the Porcelain Room are entirely covered with porcelain pieces in white/green/gold colors that fit together seamlessly. The king's smoking room is hung with Japanese-style canvases (made of Chinese (?) silk) and is exceedingly lovely.

Imagine much guilding, tapestries, paintings by Goya and violins by Stradivarius, marble staircases, encrusted and frescoed ceilings, and you have come nowhere close to an impression of Palacio Real. The pictures below also do not do it justice. These days the palace is used solely for state occasions (visits of foreign dignitaries, etc.) and open to visitors as a museum, because the royal family prefers to live on the outskirts of Madrid.

Talking about palaces... I don't think Palacio Real was half as impressive on the outside as "Palacio de Communicaciones" (yes, that means Palace of Communications), i.e. Madrid's main post office. Don't miss the picture below, this building is an unforgettable piece of architecture, worthy of royal presence rather than stamps and parcels. Due to its stunning exterior, and interior to match with lots of marble, brass and stained-glass skylights, the place has been nicknamed "Our Lady of Communications" as if it were a cathedral. Having seen quite a few nice post offices in the United States and elsewhere, I would venture an opinion that this is the world's most magnificent building of this purpose.

I'd have to agree with Daria on this point -- it's akin to what Grand Central Station in New York is for subway (and train stations in general).



What else is Madrid? Lots of things, really.. hard to describe because it's a hodge-podge city, impossible to define in a single phrase. There are many parks and gardens, the main two being Campo del Moro in the west, behing Palacio Real, and Parque del Retiro in the east. Retiro, which we have walked in, is very large, very green, and has a beatiful lake (pond?) with boat rentals, as well as many fountains and statues. One deserves special attention: El Angel Caido (The Fallen Angel) is the first sculpture ever dedicated to the devil. It won the first prize at an international exhibition in Paris in 1878 and now sits on top of a fountain in Retiro, forever condemning -- or celebrating? -- the fall of the proud one. Another interesting statue can be found on Puerta del Sol, hidden behing the horse-mounted Carlos III: it's the symbol of Madrid, the bear eating the fruit of the madrona tree (see picture). We do not know the name, or the purpose, of the last intriguing piece of sculpting art displayed in a picture below: the statue of a man leaning on the railing. In fact, at first Puneet was hesitant to have his picture taken with the guy, in case it would turn out to be a "live statue" -- street performer posing as a sculpture, a popular trade in Spain. Whatever the reason behind it, it's a pretty cool thing to come across, as many of our experiences in Spain have been.

Madrid is also famous for its museums with such impressive art collections that the city can proudly line up against Paris, Rome and London. We chose not to visit the Museo del Prado which exhibits old Spanish artists including Goya, Velazquez and El Greco, or the modern art collection of the Centro de Arte Reina Sofia, because we felt all "museumed-out" after a wonderfully educational evening spent at the Museo Thyssen-Bornemisza. This establishment contains some 800 paintings ranging from Italian religious-art primitives and Gothic paintings to portraits of early Renaissance, to Italian baroque, to Dutch interiors and daily-life scenes, to still life, to impressionism, expressionism, avant-gardes and surrealism, with a lot of styles and great names in between. All works are chronologically arranged, so by walking through the museum in the proposed order one gets a true lesson in art history; for an art ignoramus like myself this was a priceless experience. Although I benefitted from the experience myself, I still intend to get an "Art history for Dummies" book whenever I get back home. The museum collection convinced me of a few things:
1. Although

still life

as an art form was interesting in that it deviated from the earlier fixation on biblical scenes/characters as the subjects of paintings, the paintings themselves are pretty darn boring. Just how many bowls of fruit, or vases of flowers can you look at before you stop caring?
2. To get a good appreciation of the vast change in our perception of "beauty", one only has to compare the emaciated Calvin Klein models of today with the paintings of beautiful (and quite heavy!) women (some real, others being gods or nymphs) throughout the centuries.
3. For the most part, I do not understand, or have any appreciation for, contemporary art (barring some Pop art which is just kinda cool) -- A white triangle on a white canvas counts as art? I must be in the wrong field!

Oh yes, have I mentioned that Spanish people seem about as proud of their language as the French? As a rule, they would not speak English to you even if they could, unless they absolutely have to, and even then maybe not. Barcelona was more cosmopolitan in this respect, but Madrid welcomed us with this sort of conversation at the international (!!!) counter on the train station: "Habla Inglez?" politely inquire the foreigners (yours truly), looking with hope at the ticket salesperson, who laconically responds with a unequivocal "No". I think Spanish will be next on my long list of languages to learn... it sounds so impressive, too.

Actually, train issues (both travel and events at the station) provided some of the most frustrating, and comical, experiences in Spain. One thing I don't get is why the only trains running from Barcelona to the French border are so-called "regional" trains which are like subway trains in terms of their level of comfort but can have rides which last around 4-5 hours. Also, it was comically frustrating to try to get reservations from Madrid to Nice (France) at the International counter mentioned above. The rather helpful clerk brought up the train info on her computer screen via the Internet (or some sort of Intranet, but that part is what you'd expect), then proceeded to find all sorts of necessary "codes" for the destination, the train number, and other relevant fields from in a large paper manual. What is the point of having any sort of computerized system if you still gotta go look up tons of stuff in a paper manual??? Furthermore, for some reason, they couldn't bring up any information about the trip after the stop in Barcelona. In a country where nearly everyone had a cell-phone, many with video-taking ability and other fancy features, and even the clerk sitting there was using a cell-phone at times, the one little thing I can't figure out is why the main train provider in the country can't set up a system so that it's offices in two major cities (Barcelona and Madrid) are linked up together? Sounds like the most basic thing that you'd want in your IT infrastructure (and this problem did exist because the Barcelona office couldn't tell us information about the trains departing from Madrid at an earlier point). I guess I got spoiled by the trains in Germany and Scandinavia where it was even possible to get online during the train trip...

Pictures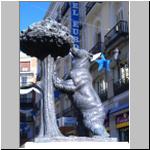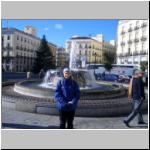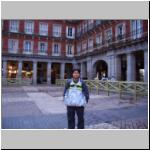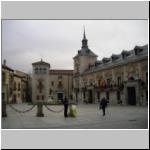 Views of central Madrid (old town)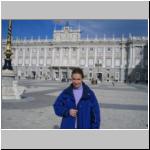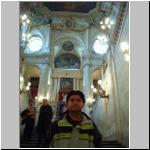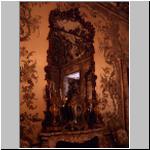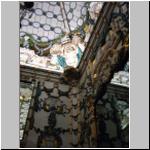 The royal palace: Palacio Real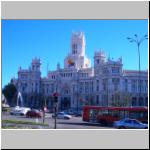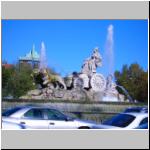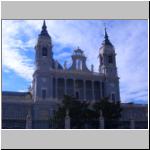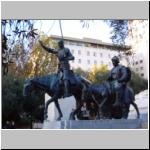 Other well-known places in the city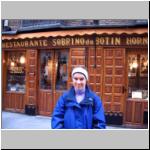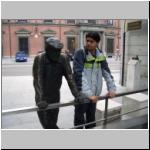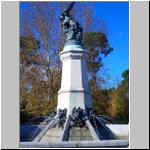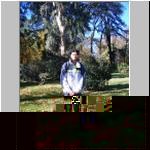 Great food, good company, and nature...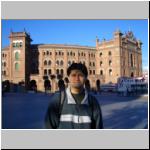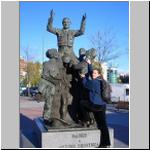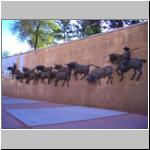 Bullring Las Ventas, home of corridas