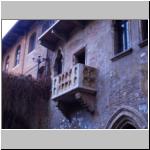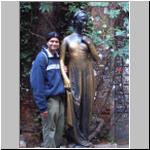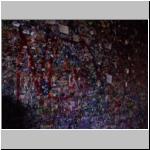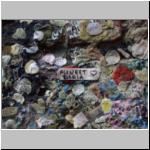 Casa Capuleti, or Casa di Giulietta (Juliet's House) in the center of Verona, is the place that supposedly served as Shakespeare's inspiration for the story of Romeo and Juliet. Verona of the Middle Ages was infamous for family feuding, and the Capuleti clan seems to have truly existed, which is more than we can say for their rivals Montegue, since there is no "Casa Montecchi" in Verona or elsewhere in Italy. Well, one tourist trap of this kind is probably sufficient... the kitschy nature of the place with its "authentic" balcony and green courtyard, always filled to the brim with visitors, did not preclude us from leaving a little reminder of ourselves on the wall. The band-aid strip with our names, forever joined by the loving heart, found home among its sister band-aids, make-it-yourself chewing gum stickers and other ingenuous species of graffiti on the walls of Casa di Giulietta.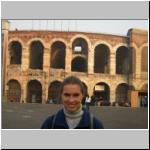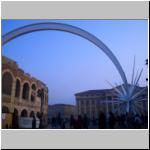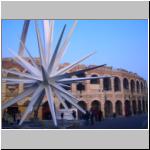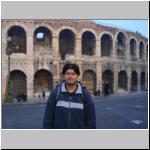 Arena, the 3rd largest Roman amphitheatre in existence (the first one being Colosseum in Rome, and we are not clear on who's on second), dates back to the days when Christ walked the earth, or maybe shortly thereafter (1st century A.D.). Quite amazingly, it is still in use, serving now as Verona's opera house! It also manages to blend well with the enormous modern-art item (shooting star? I can never tell with art pieces...) that crosses over from the square into the Arena's inner circle. All in all, quite a sight to see... and they also have Christmas decorations all around, including a very tall tree with lights.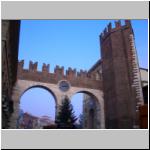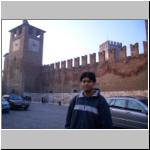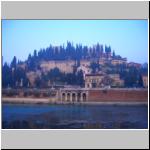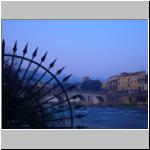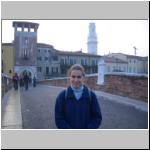 Examples of medieval and more ancient architecture in Verona: from town walls to 1st-century bridges to impregnable castles...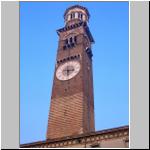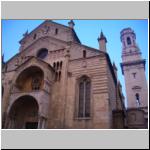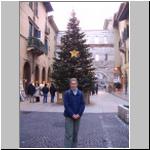 Ciao, Duomo! Ciao, Italia!