Camel Racing in Jaisalmer (02/03/04)
Last updated 02/22/04
---
Ok, so here's the truth: While there ARE camel races in Jaisalmer, we did not participate or watch any such races. That said, we did get to ride a camel through dunes to a magnificent sunset point (see pictures). More details later.

Pictures


Gadi Sagar served as the water supply for the city of Jaisalmer at one time... now it's an essential tourist stop where you'll see many a guide repeating the story of the prostitute who built the gate (see above) and outwitted the maharaja.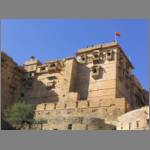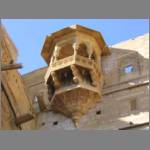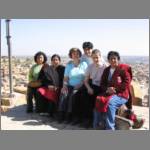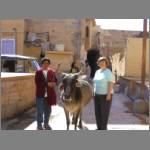 Dubbed "a living fort", the Jaisalmer Fort is supposedly the only fort in the world in which you will find an actual town still in existence. Within the confines of the fort walls several thousand people still live in homes that are hundreds of years old, though the curious tourists which buy their wares are a relatively newer phenomenon. By the way, you can still find plenty of cows in the fort (see the picture above).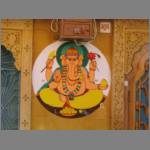 Some other impressive sights from Jaisalmer: there are exquisite havelis (beautiful golden sandstone homes built by wealthy merchants) scattered throughout the town. An interesting Jaisalmer custom is to paint wedding invitations/announcements on the walls of the groom/bride's parents' house.
The Sam village is located near the Thar Desert and serves as a major site for camel safaris into the desert. We took an hour-long camel safari into the desert to watch the sunset. A wonderful experience if you can brave getting on a camel (not too bad except when it gets up/sits down) and also bravel the various smells unleashed by these beasts (they can get pretty nasty).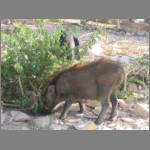 I hope these pictures did not boar you...