Jodhpur -- the Blues Capital of India (02/04/04)
Last updated 02/22/04
---
That's right, Jodhpur has the blues, though you'll have to look hard to find a guitar or piano in this place... you could say that the houses have got the blues -- they're painted a beautiful pale blue color as shown below. We'll tell you more at some later time.

Pictures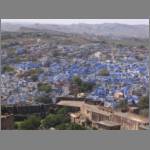 A magnificent view of the "blue city" from Fort Mehrangarh.
Mehrangarh ("Majestic") Fort occupies a lofty position in Jodhpur sitting atop a 125 meter high hill overlooking the city and served as the residence for the various maharajas of Jodhpur.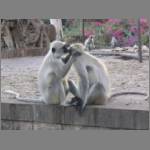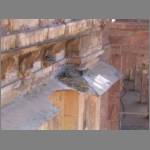 No blog on an Indian town can be complete without the requisite animal/bird pictures.... here we offer you the ever-popular camel carts (including the one that we got stuck behind in a traffic jam), monkeys, and a rare find: a vulture nest perched in a nook on Mehrangarh Fort.