A lack of "Bonding" in Udaipur (02/06/04)
Last updated 03/13/04
---
For now, all that I can say is that we didn't get to watch Octopussy (Bond flick starring Roger Moore that was filmed in Udaipur) here -- much like we didn't get to see Sound of Music in Salszburg. But we did get to see a lot of palaces and take a wonderful boat tour of Lake Pichhola, and we're happy to share the sights with you (see pictures below!). More info later...

Pictures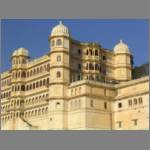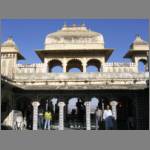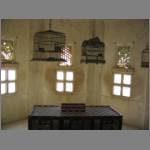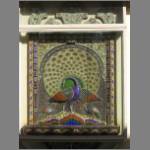 Some of the scenery from City Palace, supposedly the largest palace complex in all of Rajasthan. Overall the palace wasn't that impressive (it looks much better from a boat ride on the lake than in person), but I loved the "communications" room with carrier pigeon cages...
Aside from the impressive Jagniwas (Lake Palace Hotel), which now serves as an expensive 5-star hotel, you're likely to encounter people washing clothes, and even an occasional floating table during your entertaining cruise around Lake Pichhola (highly recommended).
Jagmandir, the other island palace, supposedly provided Shah Jahan with the inspiration for the Taj Mahal, and now houses a restaurant (funny how all the palaces of old are now so heavily commercialized).
Some of the animals encountered around Udaipur... it still seems somewhat exotic to see monkeys and elephants roaming the streets, but a little bit less so than when we first arrived.