A cruise in a "sad little green boat" (02/19/04)
Last updated 03/21/04
---
When describing the cruises of the Thekkady Wildlife Sanctuary, the Let's Go guide on India takes pains to point out the sad state of the boats in use by the government tourism agencies. Specifically, they note that the ITDC (or some other random letter combo in use by the agency) has "sad little green" boats... our experiences confirmed the sorry state of the boats, and the cruise in general (avoid it if you can). We took a more interesting 3 hour trek through the park the following morning (7AM hikes are a bit brutal for lazy-types like me).

Pictures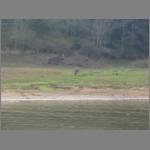 Our "sad green boat" and some of the sights seen during our "cruise" around the wildlife sanctuary. In hindsight the cruise was a pretty bad idea, and I'd recommend against it... especially given the fact that the tour will probably be sold out and you'll have to buy the tickets on the blackmarket for 3-4 times the going rate.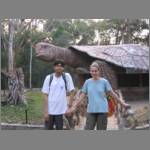 Some other scenes from the wild-life sanctuary that we saw before and after our little cruise. Now onto the pictures from our trek through the park with Nikhil.
Here are some of the animals we saw during our trek.. we actually got to see an elephant herd, though it was from a distance. Wild boars are common, but still pretty cool.
Some general views of the park from our hike.
I guess elephants can't read signs.