Dalai Lama's Llama Lemmas (03/10/04)
Last updated 04/07/04
---
Poor Daria has had to deal with all my bad Dalai Lama puns, so I thought I'd share her pain with the rest of you. When we visited Dharamsala, other than seeing a multitude of relatives (4 of my mothers siblings and their families live here), we spotted His Holiness the Dalai Lama at McLeod Ganj preaching to a packed audience of monks and foreign tourists. A special thanks to all our family here for their hospitality: Sudershan Massiji and Khanna Uncle, Gogi Massi and Anand uncle, Suresh Mamaji and Mamiji and Ramesh Mamaji and Mamiji. Also a big thanks to Atul (my cousin) and his new bride Shruti for their company during our stay. Thank you all so much for making our trip to Dharamsala a very memorable one (Daria loved Dharamsala more than any other place in India, so that tells you something).

Pictures
Now that you've seen how many siblings my mom has, it is any wonder that I have a ton of cousins? If we got together, we could easily fill a charter bus!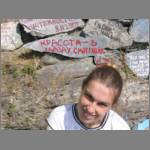 My cousin Atul (recently married) and his wife Shruti took us around Dharamsala for a bit of sightseeing and trekking up at Bhagsu Nath. We went up a pretty tough path, scrambling up large rocks, to get to the base of a small waterfall. Near the path was a little snack shop with a bunch of slate stones surrounding it with messages from prior visitors. Naturally we added our thoughts for future generations...
When we went to the Dalai Lama's temple we were unable to take any photographs. Outside, after the sermon, we saw a large exodus of monks and another important spiritual leader (someone whose name begins with K, sounds like Karmabuppa I think) who was escorted by security personnel to a waiting Qualis and then driven away.
A visit to Norbalinga Tibetan cultural center with Anand uncle gave us the chance to see some beautiful Tibetan crafts, including these dolls..
Dharamsala is surrounded by beautiful mountains...