Royal Lifestyles in Tsarskoe Selo (01/28/04)
Last updated 02/16/04
---
The exquisite decor of Catherine's Palace at Tsarskoe Selo is culminated by the sumptuous "Amber Room". No blog for now, but we hope these pictures provide a visual feast and let you feel like royalty.
Pictures
Some outside views of the area around Catherine's Palace.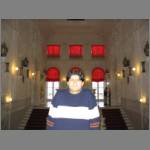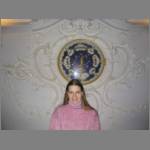 Even the entry-way staircase to the palace is amazingly decorated.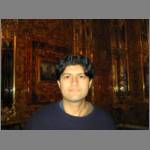 Views from the famous Amber Room, which was given to a Russian tsar (Peter the Great?) by the emperor of Prussia. It was evacuated to a western enclave of Russia during WWII for safekeeping from German forces, but mysteriously disappeared during this time. The Russians blamed the Germans for stealing the precious artwork, while the Germans insist that the Russians were responsible for the disappearance. Portions of the Amber Room have been painstakingly recreated in the last 10 years based on pictures and accounts of the original (a few broken pieces of the original were also found to aid in this task).
Even the floors and ceilings are works of art.


The dining halls and tables were certainly fit for royalty.
From door-handles, to chandellier and even mirror-frames, the tsars and tsarinas really loved gilded decorative works. In my opinion, they went way overboard, and in most cases it looked pretty tacky. I did like the porcelin fireplaces (look beautiful) and the little dresser shown above.