Sightseeing in St. Petersburg
Last updated 02/15/04
---
There is likely to be a short blog explaining some of the sights we saw when we finally managed to overcome the flu and brave "Middle Winter" in St. Petersburg.

Pictures
Saint Petersburg has several beautiful cathedrals/churches which were gloriously covered with a blanket of snow during our visit.
The city honors its heroes through impressive, prominent statues -- and few receive as much honor as Peter the Great, the tsar responsible for the creation of the city, and the literary giant Alexander Pushkin.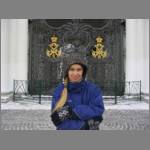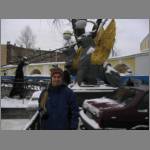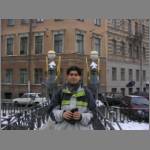 Just some of the pretty sights that St. Petersburg offers you during your visit, including the famous House of Books (Dom Kneege) and the griffin statues which guard the bridge leading to Daria's undergraduate college (FinEc -- The institute of Finance and Economics).
An important part of any visit is meeting friends and family.