Typical Russian Life in St. Petersburg (01/01/04)

Last updated 02/08/04
---
Some thoughts on typical Russian life will soon follow.


Pictures
Some typical views of a Russian apartment -- a tastefully decorated living room which can double as a bedroom (old Soviet apartments had few rooms, so it was a common practice to use the living room as a dining-room/bedroom as needed). Note the carpet on the wall behind Daria in the second picture -- this is to compensate for paper-thin walls that were installed in most Soviet-era flats (they also provide wonderful wall decor).
Some views of the neighborhood where Mama Vaya (Daria's mom) lives. The big black door marking the entrance to the building is solid, if somewhat scary.
Some other views from the neighborhood. Soviet-era monuments dedicated to revolutionary leaders are quite common -- and even the metro station names serve as a reminder of the Socialist past (Proletarskaya is the name of the closest metro station). In the hill picture, Daria's holding a piece of cardboard in her hands. Kids use these as disposable snowboards to go down icy paths created in the hill (see the long streak in the hill behind her)... I guess I must be getting old because the thought of going down an icy incline (or even a flat patch) seems more dangerous than fun.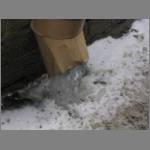 This common sight is yet another reminder that you are definitely in Middle Winter!