Good-bye, the City of Angels (04/18/04)

Last updated 04/19/04
---

Bangkok is known as the City of Angels, and, just like its namesake Los Angeles, it is often cursed by visitors and locals alike for the not-so-angelic habits of some of its inhabitors: pickpockets, thieves, touts and other crooks. With that in mind, we carefully watched our belongings and avoided interaction with strangers other than the necessary conversations with taxi drivers and shopkeepers. Even the cabbies sometimes fall in the crook category, as we discovered on the way from Bangkok Airport when our first pick claimed a broken meter, demanded an outrageous fee and brought us back to the taxi stand when we countered with a more reasonable fare proposal. The second taxi driver agreed to charge by the meter, but soon racked up an even more outlandish bill as his meter kept rolling forward nonstop, including when the car was stopped at a toll booth, at the rate that suggested moving speeds upwards of 360 km/hour! However, in full concordance with the concept of karma which Thai Buddhists believe in, the cab either broke or ran out of gas halfway through the trip, not near any gas or service station, at which opportune moment we got off with our bags, handed the driver what we reckoned to be a fair fee, and proudly departed to an accompanement of his Thai curses. Such was our welcome back to Bangkok after 3 weeks of travelling South and North. (I must note that we never had problems with taxies in Bangkok before or after this experience; normally the rates are very low, counted according to a properly working meter, and the drivers are polite and safe.)
After the cab disaster upon arrival, we were particularly cautious of interactions with Thais the next day when we ventured out into town to pay a visit to the famous Khao San Road where Western backpackers sleep, eat and shop (boring... stay away) and take another look at Bangkok. And as luck would have it, this Sunday brought us in touch with the nicest, friendliest and most well-wishing locals that a traveller could ever hope to meet. While having lunch at S&P Bakery and looking through our Lonely Planet guidebook, we were approached by a Thai man waiting for his order at the nearby table, who solicited information about a certain Royal Temple which is only open to public one day each year, and this Sunday, 18th April, happened to be the day. The man, who had lived in San Francisco before the big earthquake and was now a police officer, was happy to talk to us about California and provide advice on sight seeing in Bangkok. Following his directions, we went outside to get a taxi and immediately got involved in a conversation with yet another Thai man who guessed at Puneet's Indian descent and was curious to know where we came from and where we would be going next. Learning that we wanted to see the Royal Temple, he was quite surprised, as apparently foreign tourists never know about this Buddhist wat, and helped us to get a cab at a cheaper than usual rate to get there. Once at the Royal Temple, so called because it is the private place of worship for the royal family of Thailand, I made a blunder of crossing over to the area which was off limits for anyone but the local monks. A soft-spoken Thai man politely informed me of my mistake, suggested that we go a different way to explore the temple grounds, and -- to our utter astonishment -- proceeded to give us a very informative guided tour of the premises! He was an inspector of several protected sights in Bangkok and therefore well educated in the history and architecture of the temple. He also possessed intimate knowledge of Thai Buddhism, having spent 7 years as a monk at a monastery, before moving back to living in the world. Under his guidance we observed the beauty of the Royal Temple, lavishly decorated in the colors (not the real stones, just imitation glass) of ruby, saphire, emerald and diamond, having meaning of health, love, long life and eternity to the Thai people, and covered with mozaic panels depicting Buddha.
Our experience with the actual precious stones -- rubies, saphires and more -- came later, when we arrived at the Royal Lapidary, i.e. the factory where gems are polished, set and sold in the adjacent showroom, which happens to be the largest jewerly store I have ever seen. We got truly royal treatment at the Royal Lapidary: their people helped us out of the taxi and opened doors for us, offered soft drinks, showed us a movie on gemstone geology and mining (the two of us were the only audience!), provided personal escort through the premises and even a free ride back to the hotel. We observed jewellers hard at work sorting the gems by size, color and clarity, cutting and polishing them, and setting them in jewelry pieces ranging from rings, earrings, necklaces and bracelets to unique art items like the work-in-progress we saw: a white-gold leopard inlaid with tiny saphires. Thailand is most famous for its saphires and rubies of exceptional clarity, but other gemstones are also available, like my birthstone amethist, and an amethist ring of an unusual shape (see picture below) was what we settled on after looking at what seemed like an endless supply of finger rings in different styles. I greatly appreciate Puneet's patience and generousity in this matter; the saleslady spoke the truth when she said I was a lucky woman!
Since the day was progressing so well, we decided to ride our luck and visited the Suan Lom Night Market later in the evening for more shopping and fun. The night market covers a huge area with multitude of souvenier stalls (t-shirts, Thai-style clothing, trinkets, woodwork items, kitchen utensils, bamboo mats, you get the idea) with a suitably giant food court -- they have a live band playing on stage every night! After some browsing around the stalls we indulged in "pad thai" (Daria) and kebabs (Puneet) which supplied us with energy for another two hours of bargain shopping. Once again we were tempted with having our names written on a grain of rice (Thai bent on the idea: your name on sticky rice!), but denied the offer in favour of personalized keychain tokens. Not having been blessed with your run-of-the-mill names like Jacky and Bob, we had to come all the way to Thailand to get our names on keychains... Finally, laden with freshly purchased gifts and nearly collapsing from exhaustion, we crashed at the hotel where we intend to spend the remaining 48 hours before our flight to Australia.
Good-bye, Bangkok! Khab-khun-kaa (thank you), Thailand!
Pictures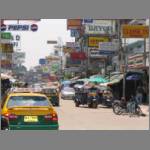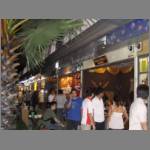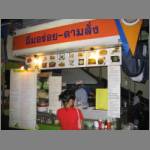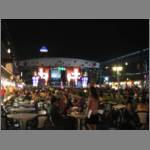 Above: don't shop at Khao San Road, save your time and money for Suan Lom Night Market. Below: Royal Temple.
Below: Daria's new amethist ring, acquired at the Royal Ladiary Co.: our dearest Thailand souvenier.