Santa Cruz here we come! (7/7/03)

Last edited 7/7/03 Russian translation here
---
After a short detour to Yosemite/Reno/Tahoe and a couple of days' rest at Puneet's parents' place in Sunnyvale, CA, we finally hit the road. The destination in mind is Santa Cruz, we're hoping to camp out on one of the state beaches in the area, and continue on 1-south from there. I'm writing this blog in the passenger seat of the Vette with my laptop pluggen into the cigarette lighter via an AC/DC converter from KMart (great place to visit when you're bored, just as good as a zoo... sorry, lost the thread of thought :). Just saw an odd sign at the side of the road (CA-17): "Thanks for saving Mom". Well, that's nice, one usually gets to see roadside crosses where people died, not thank-you notes where they didn't. Anyway...
Packing

Our packing experience deserves a long, emotional rant. Let me tell you, Corvette is NOT a camper's dream. Yeah, I know, cry me a river, us poor owners of a Vette. However, try packing in clothes and other essentials for a 3-month road trip, a tent, 2 sleeping bags, sleeping pad, sun cover for the windshield, 2-burner propane stove and a propane tank, pots & pans, food, towels, thermos, water, et cetera, and you'll see what I mean. This car has a VERY small trunk (hatchback design makes it all the tinier), which precludes a lot of things one might want to do with a car. Say, Pulp Fiction would be a very different movie if Jules owned a Corvette, because you can't kill a person and successfully hide the body in the trunk here! "Hey man, can you move the corpse's foot a little, I can't see over my shoulder" just doesn't make for a hip movie conversation.
Oh, and it's a gas guzzler to boot: 16 MPG in the city, 22 at best on the freeway, plus it only accepts premium. Sigh... That's what you pay for driving an American dream. (I love this car, by the way. Wouldn't have any other.)

Ok, here's an update from the

FUTURE (07/20/03)!

Daria's being too hard on the Vette here in terms of packing and gas mileage. I've actually managed to get between 28-30 MPG with fast (80MPH+) speeds during freeway driving toward the Grand Canyon and driving in Arizona and New Mexico (gotta love 75MPH freeway limits with drivers who actually have a clue -- rant mode, California drivers are a whole LOT worse!). Up until recently I thought our car could only get 25MPG freeway under the BEST circumstances, but i've seen it hit 32MPG+ if driving between 65-75MPH going either straight or on a slight decline (ascending is worse of course).

Back to packing: you can discover a number of nooks and crannies in your car if you look very carefully. Say, the first aid kit fits nicely (with a squeeze and a punch) under the passenger seat, right alongside your trash box. Jumper cables go under the driver seat, accompanied by paper towel roll. Fleeces didn't fit into the trunk? Oh well, you can always lean both seats forward, spread the fleeces flat against the back of the seats, and you're done! A door compartment (no glove box in this car) can accomodate toilet paper, hand sanitizer (gas station bathrooms, bless their souls, don't always carry soap), lotion, Advil (don't travel with a toothache. EVER), band-aids and an alarm clock. What about those stuffed bears with Cal insignia you picked up as gifts for friends? Scattering them around the trunk and sticking them in every little opening worked for us. This is nothing, you should've seen that one car on the freeway that had toy bears all over the back windshield with no regard to backwards visibility!

Camping
We camped overnight at Maurisa State Beach - cheap and sweet! $16/night plus a couple of bucks for hot showers, and you get a premium spot next to the beach with plenty of wildlife around. Ground squirrels were abundant, we happened on a mole sticking its blind little snout out of the ground (no, we didn't pick that site for our tent - too many holes), and woke up next morning to find cute bunnies with white furry tails hopping on the paths around the tent, eating their rabbit food for breakfast. I loved the view of the hills sloping down to the ocean in which, alas, I didn't get to swim. Imagine my dismay when we walked to the beach and saw it covered with what looked like used blue prophylactics! The things turned out to be a species of jelly fish who - get that - have their sails positioned at 45 degrees so they always swim at the right angle to the wind direction and therefore get washed ashore at the same place only once every few years. Of course they had to pick Maurisa beach on the day of my visit! Now, it gets better: we didn't have the camera on us when we saw the jelly fish. Next morning we take another walk down to the ocean, camera in hand, swimming suits packed away, and discover that the beach is clean! Pristine! Not a single blue jelly fish, just a few dried-up blackened leftovers from the day before... That's why there's no jelly fish pictures on this page.

Hitching up the tent and packing it away wasn't so bad, cooking on the propane stove worked out okay too, although I must say all domestic chores like making food, cleaning up, showering etc. take a lot more time and effort out in the wild.


Santa Cruz
Let me express great thanks to my ex-coworker from now-defunct Scale8 Justin Meyer for his awesome advice to go to Santa Cruz on Monday or Tuesday. Indeed, the Boardwalk has the so-called "1907 nights" on Mon and Tue after 5pm, when all rides are only 60 cents each (4-6 times cheaper than regular price). We took a ride (twice) on the Giant Dipper, the famous old (1925-ish) wooden roller coaster. I love roller coasters, yet I'm mortally afraid of them at the same time, so poor Puneet had to listen to my whining "I'm gonna die! Why am I doing this? Can I still get off? I'm so scared" the whole time we were standing in line which was, thankfully, very short. Santa Cruz Boardwalk is great for the rides, you can easily do five of them within the hour, as opposed to your average Disneyland 70-minute-long wait for each ride. And it's right on the beach, and they got an arcade with our favorite Addams Family pinball machine, and clam chowder on the wharf is oh-so-yummy, and people are so friendly you can ask to pet their dogs on the street - paradise on earth. Don't be sad Santa Cruz, we'll only be gone for a year, and once we're back home to Berkeley we'll come and visit again.
Pictures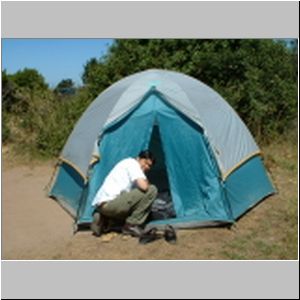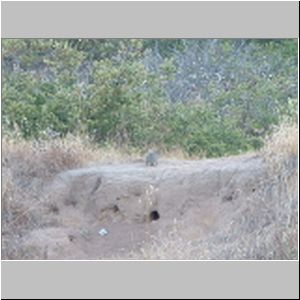 This is our tent at Maurisa State Beach Campground and a distant view of a small bunny.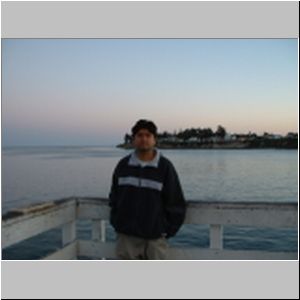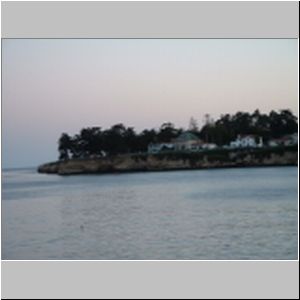 Views from Santa Cruz Wharf, home of yummy clam chowder and numerous seagulls.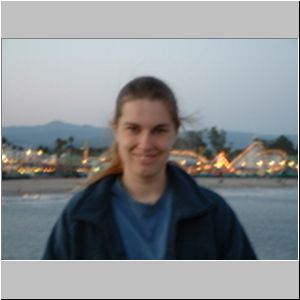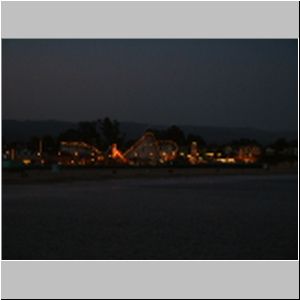 Santa Cruz Boardwalk in the background - the tallest structure is the Giant Dipper.