Monterey & Big Sur (7/8/03 - 7/9/03)

Last updated 7/8/03 Russian translation here
---
Historic Monterey

Monterey was one stop on our way that I had to fight for; Puneet intended to just drive through it, but in the end even he was glad we took the time to explore historic downtown and the wharf (seals! seals! see numerous pictures below). Our previous visit to Monterey a year ago was for the National Corvette Restorers convention, so we got to see a lot of Vettes and also a little of the Aquarium, but none of the actual town of Monterey - big mistake which has now been corrected.



Daria is absolutely right, I intended to drive through it, but I was dead wrong... the historic downtown section of Monterey is very beautiful and definitely worth seeing (look at all the cool seals we got to see!)



Historic downtown is lovely and quite educational to see; I didn't even know that Monterey used to be the capital of California and home to many important events like signing of the Constitution of the state when CA became part of the United States. Near the wharf there is a nice museum of pre-US history of Monterey (free admission), and a self-guided walk around the downtown area gives you a feel for the Spanish and early US period of Californian history. The historic path is very easy to follow, once you've figured out that there are guiding yellow circles on the sidewalk that you should be watching out for. To our shame, we managed to get lost badly (in spite of having a map) before those yellow marks caught our attention. On our walk we got to see pretty adobe buildings, among them the house of the first and only US Consul to Mexican California (there weren't any more because the US took over CA), inviting gardens and plazas, and the wharf with its yummy smells of seafood and not-so-attractive aroma of the seals. Except for the smell, they are such loveable creatures! I enjoy observing them when the wind direction is right.


Big Sur & CA-1

Big Sur is best known for its artistic community and expensive beachfront mansions, but we got to explore its other side - beatiful redwood forests and cheap campgrounds. CA-1 (South) was a fun drive: winding road, one lane in each direction for the most part, great views of the ocean on the right and steep hills on the left. I'm glad we only drove in daylight hours, for at night, I imagine, the highway loses its picturesque quality and gains a murderous one.



Pfeiffer Big Sur is a state park in a redwood forest setting, with many miles of developed hiking trails and even a waterfall. We hiked to the falls at night, leaving at sunset and coming back well after dark which was a scary experience - don't try this at home kids. The waterfalls in moonlight were a marvellous, albeit not a photogenic, sight and well worth the hike, but flashlight-illuminated way back to the camp showed me that the primitive fears aren't buried too deeply inside the modern man. The forest suddenly became forbidding, every twig seemed an animal's paw, every little noise made me jump - not what I'd call a pleasant walk through the woods. So, from now on, only day hikes for us!

Pictures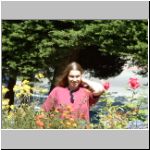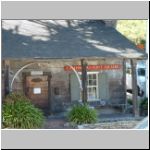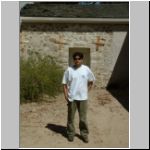 Historic downtown Monterey: old jail, theater, and a lovely garden.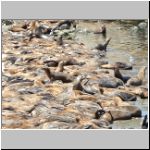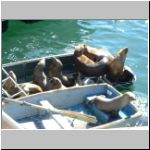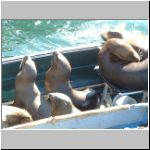 SEALS! SEALS!! SEALS!!!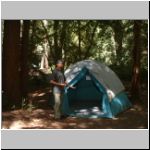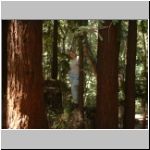 Pfeiffer Big Sur campground among stately redwoods.