Los Angeles (7/10/03)

7/10/03 Russian translation here
---
I would never want to live in the urban sprawling mess they call LA, but visiting once in a while is acceptable, although we get a parking ticket nearly every time... Small price to pay for romantic memories, I suppose. Puneet took me to LA (Griffith Observatory and Pink's hot dogs, to be precise) on our first official date three-something years ago, and we've been replaying that scenario on an annual basis.

Griffith Observatory offers one of the best views of LA that I have ever seen. The first time I took Daria there, we somehow ended up at the observatory around 11pm or so, and got to see a whole bunch of pretty lights which made up the valley... we then followed it up with a first-time visit (for both of us) to the famous Pink's hot-dog stand (google it to see why it's special) around 1am or even later (memory fails me) and there was a pretty long line even at that time, so you know the hot dogs are GOOD.



This time we also went to Venice beach, which worked out, and Mulholland drive, which did not. We found some remote portion of Mulholland drive without any mansion homes that goes for all of two miles and then dead-ends. So we took Mulholland highway as the next best thing and drove through scenic hills with no homes whatsoever, mansions or otherwise, until we got to the ocean around Malibu and drove along the beaches to Venice. (I still don't know where the actual Mulholland drive is...) Venice beach boardwalk is a lot of fun, what with all the tattoo and henna shops, unknown artists' paintings on the sidewalk, palm readers, palm trees, hot dogs, body builders at Muscle Beach, t-shirts like your mama didn't buy you, street musicians, kitsch souveniers (crawling GI Joe toy anyone?), surfers, tanned boys and girls on roller blades, ice cream, sunglasses, swimming suits, flower power billboards with people's opinions on everything from George Bush to happy marriage to saying sorry and meaning it, free hugs ($1 for a long hug), the sun, the beach, the waves, the essence of California as the dwellers of not-so-sunny states see it.
Venice beach is a fun experience with plenty of odd people selling odd things, and a nice ocean view combined with beautiful California sunshine. I think it's places like this that make SoCal a bearable place.


Later in the day we drove up to the Griffith observatory hoping for a birds-eye view of Los Angeles. The observatory turned out to be under reconstruction until 2005, but the Griffith park roads were open, so a view of LA was indeed available, despite a somewhat smoggy day. And since we got into the park almost at sunset, politely ignoring signs "park closed sunset to sunrise", our reward was an awesome sight of the orange disk of the sun setting into the Hollywood hills, right next to the famous white letters of the HOLLYWOOD sign. Of course we had to get out of the park as soon as the sun went down and the rangers declared closing time, but I got my romantic experience.

We ended the day with a dinner at Pink's, the hot dog stand that's been around since 1937 and welcomed hundreds of celebrities into its little shack for a bite of the best chili dog in town. This place always has a line; we waited for 45 minutes, and that's at 9pm on a Thursday night! The hot dogs are to die for, and variety is amazing. They got it all - Brooklyn polish dogs, nacho cheese chili dogs, Harry Potter and the Sorcerer's Sausage, hot dogs with sour cream and guacamole, hot dogs wrapped in tortillas (3 dogs + 3 cheese slicees + 3 pastrami + giant tortilla = Matrix Reloaded), as well as oversized hamburgers and other mind-boggling foods - 2 chicken breasts wrapped inside tortilla... add bacon... add pastrami... put 10-inch polish dogs on top... smother in barbeque sauce... the question is, will the heart attack hit while you're still at Pink's, or wait until you get home? And people actually order these gargantuan creations, they aren't on the menu just for show! But if you abstain from pigging out and don't mind waiting in line, Pink's is the greatest fast food (hmm... the slow variety) in the City of Angels. Oh yeah - when you go there, don't park where we did (a right at Pink's, then another right, unmarked curb), you'll get a "preferred zone" ticket.



I don't think you'll ever find a wider selection of hot dogs than what you see at Pink's, and in all honesty many of them are probably too weird for me, but I suppose it takes all kinds. Try the nacho cheese chili dog, you won't be disappointed.



Pictures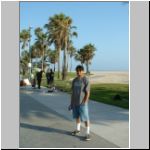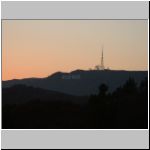 Venice Beach and Hollywood hills, Los Angeles, CA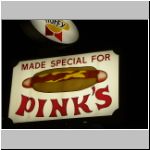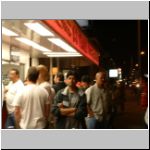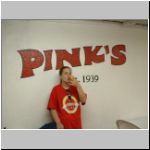 Pink's Chili Dogs, Los Angeles, CA