A night in Las Vegas (7/16/03)

Last updated 7/25/03 Russian translation here
---

"You know, Vegas is a different place from here... and I mean, the little things. You know what they call a Denny's in Las Vegas?"
"Don't they just call it Denny's?"
"A Casino Royale!" [honest to god truth --- that's what it says in the picture below if you can't read it]

"What about IHOP?"
"I don't know, I didn't see one" --- If we got to re-direct scenes from Pulp Fiction

I thought that a stop in Vegas was required during our road-trip even though Vegas is HOT (over 90 degrees even at midnight), and despite the fact that I hate the whole gambling thiniag. Luckily Daria isn't too keen on the place either, so spending a single night there got it out of our system... So to sum up the exciting "night" in Vegas, we walked around the Strip (Las Vegas Blvd) for a little while and saw a bunch of pretty theme hotels, which we had already seen on our last trip... we took a couple of pictures, and saw the volcano eruption at the Mirage (fountain w/ lights and fire effects).



I've heard that Vegas is changing its image from a "family fun place" back to the original "adult entertainment". Quite a few hotels are updating/replacing their signature shows. For instance, the Treasure Island's famous outdoor pirate ship battle show is currently closed for renovation, and is supposed to open this fall with a new cast of scantily clad girls instead of manly guys in pirate uniforms. Similarly, Cirque du Soleil, which I wholeheartedly admire, is coming out with a new performance that's expected to have an erotic tinge to it. Bellagio and some other upscale hotels now have an anti-children policy: kids are allowed onto the hotel premises only with their parents who are guests at the hotel, i.e. you can't just show your child the pretty interiors of Bellagio if you're staying at, say, Circus Circus (where we stayed the night). Such a policy cuts down on the number of paying customers: a family with kids can no longer hop from one casino to another and let Dad gamble while Mom strolls through the shopping gallery with the kids, yet obviously the upscale casinos think it worth their while to maintain an adult-oriented image even despite some revenue loss. This is an interesting deviation from the "famlies welcome" attitude that Vegas has been pushing in the last couple of decades... guess they finally admitted that their customer is really a young single male, or a male that wants to appear young and single (middle-aged wallet away from the wife and kids is perfect), and not a nuclear family.



The definite high point of the evening occurred at the opulent Bellagio casino. This is arguably the crown jewel in the mecca of gambling in the United States, with tons of people paying at least 150+ dollars per room (on a weeknight!) for the privilege of staying here, and tons of high-stakes gambling taking place at the various tables and slots. So its not surprising that to comply w/ laws (I think), in a little obscure area by a restroom located near the garage exit, they have a little brochure on compulsive gambling disorder (that sounds real enough) entitled "When the Fun Stops". When I saw this thing, I honestly couldn't stop laughing... It sounds like something out of the Simpsons... "Hi, I'm Troy McLure. You may remember me from such self-help videos as "Compulsive Gambling -- when the fun STOPS". Anyhow, that's why there's a picture of the brochure below, in case you were wondering.

All in all, Vegas gets old real fast, but as said before, it's an obligatory stop on our trip, so that's that. And yes, we both gambled. I think we lost a combined 60 cents on slots, and that's plenty in my opinion.

Pictures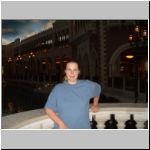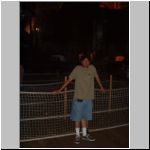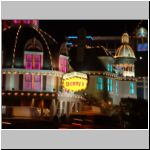 Scant collection of Vegas pictures at night...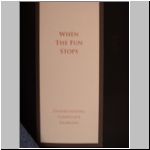 The infamous self-help brochure for compulsive gamblers from Bellagio.