Marching Longhorns and New Shoes! (7/24/03)

Last updated 7/28/03 Russian translation here
---
Why Daria's stopped eating beef
Starting on that fateful day when we got to see those beautiful Texas Longhorns in the Historic Stockyards in Fort Worth, Daria has shunned beef in all its forms. I think the beauty of those creatures, combined with a guilty conscience at eating one of their brethern (we were sharing a BBQ beef brisket sandwich while watching them march down the main street at the stockyards) was too much for her to handle. I can't say that I was similarly moved, even though I too found them to be magnificent animals -- I guess I'm not a very moral person, and I love my burgers too much to give them up! Anyhow, onto more details about our stop in Fort Worth.

Fort Worth has a lot of character, and I found it to be a much richer place than anything we saw in Dallas (only the REI store and what not while we were driving, so it's not really a fair comparison). We walked around the historic downtown section of Fort Worth during the night-time and got to see many pretty buildings and some interesting night-life. The next day we stopped at the aforementioned Historic Stockyards where we got to see real cowboys, and one of them was kind enough to take quite a bit of his time to tell us some of the history of the town and the Longhorn cattle.



History Lesson:

At some point the town got a railroad connection (look for the cool steam-engine picture below), and cowboys were no longer forced to drive cattle to other locations (eg: Chicago) to ship meat to the east. If I remember correctly (this is all being blogged at a later date, so there may be some inaccuracies -- Daria will help set the record straight I'm sure), the Spanish are responsible for bringing the Longhorn to Texas, where they flourished in the wild and actually developed horns (in a matter of centuries?) to combat natural predators such as bear and mountain lions.

In any case, the cowboys in the stockyards still occasionally drive the longhorns to more distant locations (not to slaughter, of course), but mainly keep them around to show kids and tourists (like us, and another couple from Romania who stopped by). Every day they also take them for a little stroll on a couple of the streets around the Stockyards (which encompass a pretty big area 5x5 block or something like that). We got to watch them while sharing a BBQ brisket sandwich basket at a BBQ joint (Riscky's BBQ?) which had outdoor seating facing one of the roads that the longhorns went down... little did we know that the event would result in Daria's monumental dietary transformation...


Why REI Rocks -- If you need gear, go here!
Gear update: Some time before the Grand Canyon hike (I forget exactly when) my wonderful Vasque shoes developed a "problem". The inner lining near the toe area on the right boot collapsed, creating an uncomfortable triangle wedge which chafed against my big toe. I tried pushing the area up with my fingers, but and initially that held for a day or so, but soon afterwards, the area would collapse after just 5 minutes or so... it sometimes temporarily fixed itself (when walking upward), but in all it was a major annoyance during this hike. Poor Daria had to listen to my laments and curses about my shoes and suggested that we replace them as soon as possible, which posed another dilemma since they had been purchased at an Any Mountain store in Berkeley, and Any Mountain is a chain which exists only in some areas in California (yeah, I'm wishing I'd bought the things at REI about now!). After contacting Vasque via e-mail, I learned that I could return the shoes to any retailer and that they *should* be able to take care of the problem. After hopping online, I learned that there was an REI in Dallas, and since I've had great experience with REI in the past, I figured if any place would exchange the shoes (or get them to the manufacturer), it would be them. And even if they couldn't help with the defective shoes, I wanted to make sure that my next pair came from REI so I could return them to a different REI along the way if I had future shoe problems. Let me just say that I'm even more impressed by REI than I was before (which is really saying something). These guys rock, and I would highly recommend getting your camping/outdoor gear from them because you will be hard pressed to find more helpful, friendly and useful customer service from any other store. They took the old shoes back, had their head shoe guy (thank you Blas), re-fit me and spend time helping me try on other shoes and stuff. In the end I got a new pair of Vasques and hopefully will not have any future problems. We also got some nice woolen hiking socks that should be helpful during the rest of our trip. By the way, my shoes look WAY better than Daria's shoes now, so here's getting even for that picture after the Grand Canyon hike


Pictures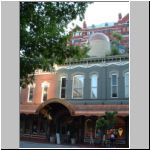 .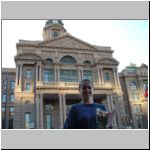 Fort Worth has some beautiful architecture shown above. The "Caravan of Dreams" was built by some billionaire who also built Biosphere 2 according to RoadTrip America... a pretty cool looking building which also housed a coffee shop below that we visited... a free refill on iced coffee!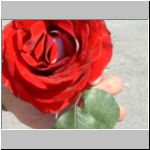 I can be a romantic guy if I try...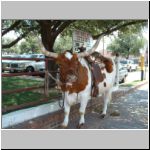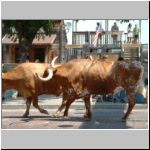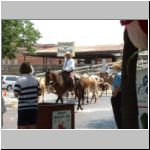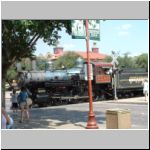 The historic Stockyards are definitely worth a visit -- cowboys, cattle and trains, what more do you need? Oh yeah, try out Riscky's Barbeque for nice BBQ beef if you're into that, but be warned, you may not feel the same when all is said and done.