Gators, Gumbo and Mardi Gras (07/29/03 - 08/01/03)

Last updated 8/4/03 Russian translation here
---
Gumbo and Beignets in New Orleans
In New Orleans we got to stay at the Prince Conti Hotel (See the picture below, Daria loved the decor) in the heart of the French Quarter -- a major plus since it meant that I didn't have to drive (and worse, find and pay for parking) to visit this historic portion of the city. Since we were staying in the French Quarter, we got to see a lot of it too (a tip for visiting New Orleans: stop at the visitor center and pick up discount brochures for hotels -- we ended up saving $20 a night on a hotel in a nice location, and you can get discounts for lots of different activities, so its worth the trouble). The streets of the French Quarter make you feel like you are actually strolling down a rue or boulevard in Paris; the streets are tiny and generally one-way, the buildings are small and have balconies with iron-wrought balustrades and there is definite stench (especially around Bourbon street

which is the heart of New Orleans as the party town: lined with bars, pubs, adult clubs and shops, and filled with merry drunks and loud music at all times of day

) which reminded me of certain portions of Paris.

The aroma comes from trash bags that the population of New Orleans seems to put right on the streets next to their front doors -- very odd (and smelly) way of garbage disposal if you ask me. Also, when walking under the charming lace balconies, beware of flower pots dripping water onto your head.

There are also many small shops everywhere and this section of the city really captures the Paris experience quite well -- except you hear English spoken everywhere instead of French, but that happens in some portions of Paris, so even that is somewhat realistic. All in all, I really enjoyed the French Quarter and would highly recommend a visit here....

While in New Orleans you have to sample some of the local cusiine, so we got our fair share of jambalaya, gumbo, red beans and rice and mufalletas (ham sandwiches with an olive salad topping). We had a pretty bad dining experience at The Triciou (or something like that) located on Bourbon Street -- a new rule that developed was that unless you could see the inside (we couldn't since it had a courtyard), and unless it is crowded, an eating establishment is likely to be a bad choice. We had a *wonderful* dining experience at the Gumbo Shop (a very old place), where we really got to experience the wonderful Creole dishes that were mucked up by the cooks at the Triciou -- incredible gumbo, jambalaya, shrimp Creole, red beans and rice, creamed spinach, and delightful bread pudding with coffee to end the night. The service at this place was incredible too

(they don't mind the two of you sharing an entire dinner special dish after dish, and when you ask for leftovers of that heavenly bread pudding to go, they bring you two sets of plastic tableware with it!!!)

, and I would highly recommend this establishment and amazingly it was reasonably priced to boot. Daria and I experienced a local tradition when we indulged in iced coffee (containing Chicory which, apparently is a Louisiana thing) with beignets (fried pieces of dough topped with powdered sugar) at Cafe du Monde (see picture below) -- Daria loved the Chicory taste in the coffee so much that she bought some Cafe du Monde coffee to replace her dwindling supply of coffee for the rest of our road trip.

Note on chicory: it's a special sort of bean, first got added to coffee in Louisiana during the Great Depression when coffee was hard to come by, and later on locals got so used to the slightly bitter "burnt" taste that chicory stayed in their coffee for good. And I can see why! We got a laugh out of the waitress at the Cafe du Monde when asking for a "coffee with chicory" because, apparently, that's the way it always comes in New Orleans -- unless you ask for yours "pure". As for beignets, they are identical to the Russian cousins of doughnuts that you can get, very cheaply, at this one dive in St. Petersburg in a little alley between DLT mall and the church that used to be a swimming pool in Soviet times. You know the one I mean, right?



A final note -- the last picture in the first row won't make any sense without the following story. Daria wanted to go on a steamboat ride on the Mississippi on the Steamboat Natchez. Unfortunately the ride never happened, and so she never go to see the steamboat... one day she was in a confused state, and saw that red tanker near the port and thought it was the Steamboat Natchez (don't ask why). Even though she immediately realized her mistake, I had to take a picture just to tease her a bit. Now you're in on the little joke too.

The Bride of King Kong in Mardi Gras World
We got to visit Mardi Gras World, which is the place where they build all of the wonderful floats which take part in the parades during the weeks surrounding Mardi Gras (yes there are several nights worth of parades that happen as early as 2 weeks before Mardi Gras). We learned quite a bit about the time, cost and effort required to make these floats (they can easily run upwards of $1 mil, take months and months of effort from a group of dedicated individuals). That's all I can think of saying about that -- oh yeah, in case you're curious, they now make them with a porta-potty onboard. (good thinking!)

Mardi Gras is so big in New Orleans that even months after the event, which takes place in February, you see round beads and portions of necklaces stuck in the cobblestone pavement. The beads, along with other giveaways, are thrown to the spectator crowds by the costumed riders of the carnival floats. Riding a float once a year all dressed up is not a cheap experience ($400+, costume and throwable trinkets not included), but probably highly enjoyable, though the costumes must be very hot and heavy to wear -- the headpiece I tried on at Mardi Gras World certainly was. Still, you gotta love carnival... I'm going to keep my green string of beads (admission ticket to Mardi Gras World comes as a keepsake in traditional colors of the carnival: green, gold and purple) as a Christmas decoration.



Plenty of Gators in Swamp Tours

Swamp tours, available in Louisiana as well as Florida, consist of putting you on a boat with some 20 to 60 other people and a guide, and taking you on a ride around swampy/riverish areas with a promise of seeing wild alligators. I wanted to have a "tropical swamp" experience (I've only been to the swamps in north-western Russia where one can find cranberries, mushrooms and mosquitoes, but no gators), but was skeptical of the wildlife viewing promise. What do you mean, you can just go out on a boat and see alligators? Must be a sham, I thought to myself. I was proven entirely wrong, and I got pictures to confirm it. You really do get to see gators swimming right by the boat; in fact, you see so many of them that by the end of the tour you start saying things like "C'mon, that's just another gator, we already got so many pictures, better look at that bird instead". Apparently, gators inhabit Louisiana swamps just like squirrels live all over Berkeley, CA. They also seem to be attracted to tour boats, probably because visitors throw food into the water. Puneet got to see one gator eating a marshmallow!!! Unfortunately I was looking the other way at the time, but I saw enough alligators to last me a lifetime, and found them to be very cute little (1-2 feet long) creatures, with faces that appear frozen in a permanent smile. Gators come framed in beatiful natural surroundings, too: willowy trees leaning down to the water, overhung with Spanish moss (see picture), muddy brownish waters of the river highlighted here and there with low-flying brilliantly colored dragonflies. One dragonfly landed on the knee of a boy next to us and sat there immobile for a good five minutes, and even allowed to be petted on the wings, which I found to be amazing behavior in an insect.
Pictures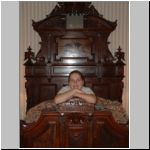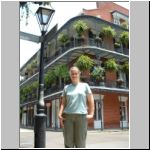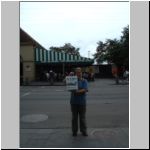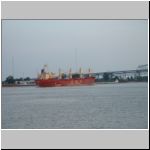 Views of New Orleans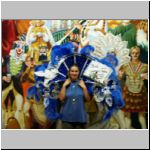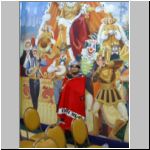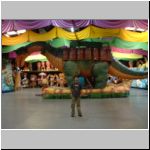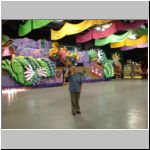 Mardi Gras World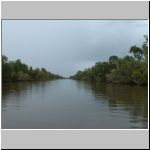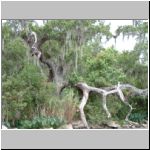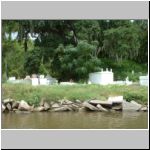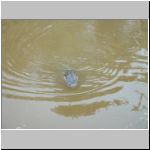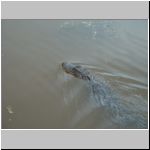 Swamp Tour pictures -- notice the gators? They're real... honest.