Blue Ridge Parkway (08/07/03)

Last updated 8/7/03 Russian Translation Here
---
A nature-lover's dream driving experience

We needed to get from Atlanta to Washington DC, but didn't know what route would provide anything worth seeing. Fortunately for us, RoadTrip America had a whole section on Blue Ridge Parkway which Daria read and found interesting, and so we decided that we would take the parkway all the way from the Smoky Mountains to Shenandoah Park, and then on through to DC. Blue Ridge Parkway is an interesting driving experience, and I would highly recommend it for any driving enthusiast or nature lover. A few points about the drive:

It's a scenic drive, and thus the maximum speed limit is 45MPH, though it is sometimes (for a good reason) lower around curves and stuff. It can be a challenging drive (especially if you have to do it in heavy rain) due to the curves and ever-present mist. It was fun to see how fast the Vette could handle some of the curves, but I ended up driving *safe* most of the time due to the rain and mist...
It's a single lane in each direction most of the time, but there are turnouts, and if you're stuck behind a slow, but courteous driver, you won't have to wait long for them to use a turnout to get out of your way

They don't allow any commercial truck traffic on the parkway, so you don't ever have to worry about being stuck behind an 18-wheeler going 20MPH uphill or anything like that.
There are hiking trails or scenic overlooks nearly every 5 miles on the parkway (they are sometimes even more frequent).

The next several days were spent hiking and driving along Blue Ridge Parkway, so get ready for a lot of naturesque (is that even a word?) pictures, beginning with an emphasis on the general foginess of the entire region.

Riding along Blue Ridge in the passenger seat offers some truly incredible views from the mountain tops (the parkway takes its name from that of the mountain ridge which it follows for the entire 600-something miles). Mostly the road curves along the hillside, so on your left you see bare rockface rising up, and on your right the mountains stretch down into the deep, foggy valleys. The overlook turnoffs present flat observation areas where you can park the car, walk a few steps to the rim and see breathtaking vistas of forests below, mountain tops in the distance, often waterfalls. In one location along Blue Ridge the waterfalls are right on the parkway! Water cascades down the rockface on one side of the road, is diverted under the pavement, and continues its run down the hillside from the edge of the parkway; there are 4 such waterfalls within yards of each other, and one of them even splashes your car as you drive next to it. At other times, you're going under a canopy of leaves because the trees along the road spread out their branches, completely covering the parkway with a green roof; on a sunny day, streaks of sunlight squeeze between the leaves here and there, and it's so much fun to watch the play of sunspots on the road.

I sense that I'm getting all mushy trying to describe Blue Ridge: "Oh, waterfalls", "Wow, views from the mountains", "Imagine that beauty" etc., but I can't help it -- the place truly IS that beautiful! Yes, I have seen similar sights before in national parks, but in all cases you had to drive a long way on boring unisex freeways to get to the destination which you came to see. On Blue Ridge, you're driving THROUGH the sort of scenery that you usually have to drive TO. It's a place where nature reins, and man feels fortunate to get out of the stone jungle of the cities and come back to the quiet bloom of life as it should be. And for those of us who cannot bear to leave comfort of modern amenities behind while bonding with nature, Blue Ridge is the perfect location: smooth roads, frequent turnouts with clean restrooms, tidy trashcans, drinking water fountains, picnic tables, information booths, marked hiking trails -- one cannot wish for more.



Pictures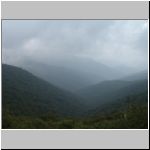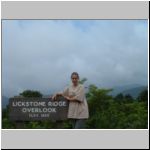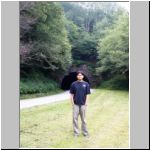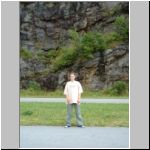 Views off the parkway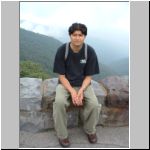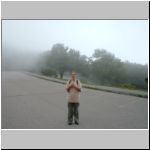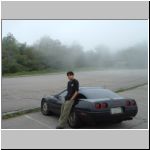 Fog...