The city that never sleeps (08/16/03 - 08/18/03)

Last updated 9/26/03 Russian Translation Here
---

Hmm, blogging something that happened over a month ago is not an easy task, but I guess that's what I get for all of the procrastination. To all those who
have actually been awaiting these blogs (maybe this is just wishful thinking on my part... even I don't read what I write, so why should anyone else??), my deepest apologies.

Our visit to New York coincided with the infamous Blackout of 2003 (there were plenty of Tee-shirts being sold which benefitted from this calamity -- stuff like "I survived the Blackout; NY 2003" or simply "Blackout 2003; New York"), and this event had a lasting effect on our visit. The first effect of the blackout was that we arrived in NY a day later than we wanted to since we were advised to avoid travel to the city by numerous electronic billboards along the interstate in New Jersey. See we ended up leaving Philly in the late evening and were hoping to meet my dad's friend Nand uncle in Long Island. However, by the time we got to Jersey, we saw signs warning travellers about the lack of power in NY... so to make a long story short, we ended up staying near Princeton in a motel with power and arrived in NY a day later. We were also constantly bombarded with blackout related news on all major news channels, with countless images of the governor of NY and the mayor of NYC congratulating New Yorkers (and each other) on doing a "wonderful" job and "showing the world just how resiliant New Yorkers really are" and whatnot... I absolutely love how self-righteous people can become during a time of crisis -- the whole thing got really annoying after the first 5-10 minutes. Another effect of the blackout: we couldn't go to the top of the Empire State Building... we visited the place a couple of times and were told by rather unhelpful security that it would open "sometime in the future" -- gee guys that kind of info is *really* helpful. Anyway, we did get to see a Broadway show -- Phantom of the Opera (a classic) -- which was wonderful. I had never seen it before and found it to be one of the best shows i've seen -- much better than Cats IMHO (nicer music, great props and a nice story to boot).

We didn't get to go to the Statue of Liberty since we arrived too late (after 3PM or so) at the ticket counter. But no worries, we ended up taking a cruise around the harbor (see the pics below), which was probably nicer since you can't go up the statue, or even into its base since 9/11 -- what a bummer; damn terrorists. Manhattan is a wild place -- tons of people, tons of smells (some of them quite unpleasant) and just tons of stuff going on at *all* times. It's probably the only place in the country where you could buy a 10 dollar handbag on the street at 11PM or find yourself elbow-to-elbow in a crowd at midnight -- it happened to us after our Broadway show on a weekend night. Times Square is a pretty interesting place with all sorts of electronic billboards screaming various ads or stock prices... we saw Lorenzo something-or-other performing on an electric violin in the square and Daria ended up picking up his CD (not too bad, but a bit repetitious). Hmm... too many things to mention, but I'll try to get a few other highlights. We visited Central Park on a weekday afternoon when it was raining and found ourselves to be the only ones there (probably a pretty rare event). It seemed like a very nice place to walk or have a picnic (as long as you don't run into any of those hoodlums who made the park quite unsafe in the 70's and 80's). Anyway, I thought that I could enjoy living in a place like NY (though I'm not much of a city guy), but Daria felt that it was much too crowded for her taste. Certainly worth a visit if you get the chance.


Pictures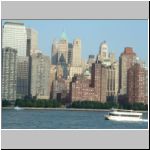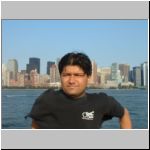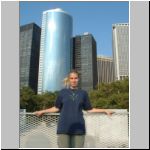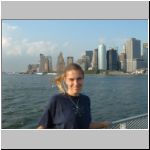 The unforgettable Manhattan skyline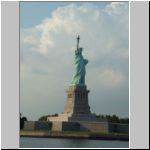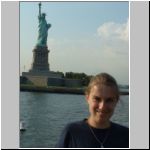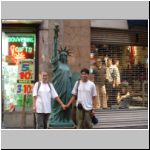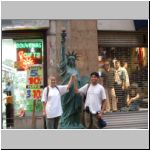 Statue of Liberty and her wanna-be's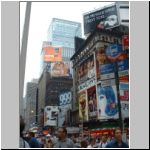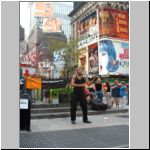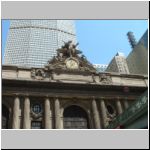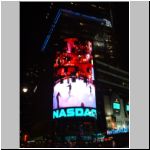 Downtown Manhattan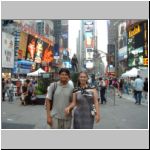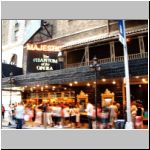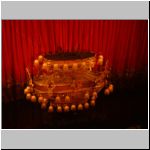 Seeing "Phantom of the Opera"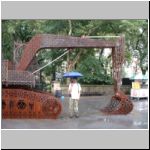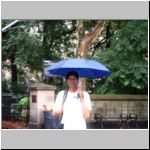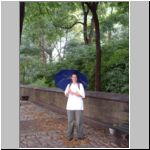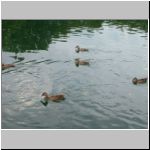 Central Park on a rainy day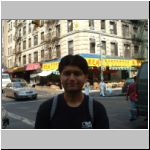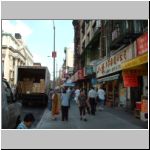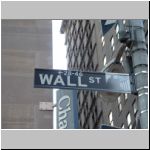 From Chinatown to Wall Street