Cold and disappointed in Yellowstone National Park (09/08/03)

Last updated 9/29/03
---

The next stop on the Mehra road tour was Yellowstone National Park, home of Old Faithful and (supposedly) much wildlife, which must have decided to go on vacation when we were visiting. We had decided to camp in Yellowstone (despite the possibility of cold weather) and were looking forward to our first camping experience since Texas... to say that it was a miserable time would be a gross understatement. To begin with, it was cold... and I mean *COLD*! The night that we camped temperatures dropped to slightly above freezing, and to top it off, it started raining. I wore my green pants on top of thin sweatpants and my legs were still cold! I wore 2 layers of socks, with one of them being woolen hiking socks, and was still unable to feel my feet after a little while. Even my ears were freezing at night, forcing me to put on my hat (see pic below), but even this didn't help since after I covered my ears, my nose and neck were soon quite chilly. Most of the night was spent trying to cover a cold part of my body, and then soon discovering that another part of my body which had previously been silent was now screaming bloody murder about the intense cold in the tent. After a single night I told Daria that I would not be able to last another night in the tent, despite the assurance from our sleeping bags that they were rated for 20 deg. fahrenheit weather (40 deg would be stretching it, but 20 degrees is just ludicrous). Unfortunately, there wasn't any lodging available in Yellowstone, and the nearest town is about a 50 mile drive from the edge of the park, which is another 20-30 miles from anywhere interesting... so we decided to cut short our 4 day trip down to a single day. We spent the day looking at various geysers and hot springs around Yellowstone, and then headed on toward Salt Lake. That night we spent a much nicer night in a motel in Jackson, Wyoming (which is a very expensive place to stay in since it's "the gateway to Yellowstone"). Oh, I almost forgot. We saw tons of signs admonishing us to not feed or approach any wildlife... after a while it became a running joke between me and Daria, because we ended up seeing tons of *signs* about wildlife, but other than one measley squirrel, and a coyote that ran across the road when we were leaving the park, we didn't see any darn wildlife. Wind Cave national park was *much* nicer in this respect.... we saw more wildlife in Yosemite, and pretty much every other park we visited than we did in Yellowstone.


Pictures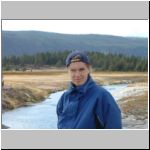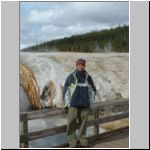 The Mehras trying to stay warm in a very cold Yellowstone park...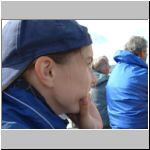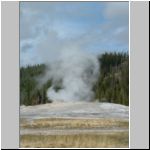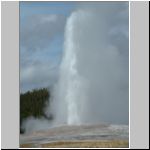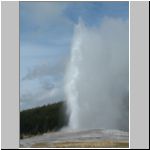 Shots of Old Faithful... with Daria looking bored before the event.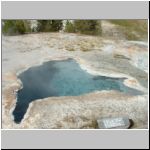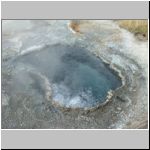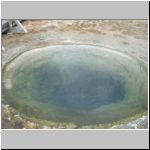 Some of the many hot springs/pools at Yellowstone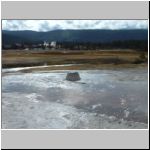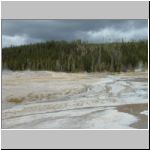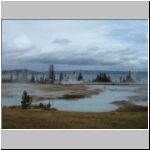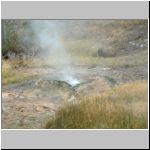 Some shots of geysers