Get your kicks on Route 66 (7/17/03)

Last updated 7/25/03 Russian translation here
---

So before our road-trip began we ordered a couple of books on things to see and stuff, and one of them was "RoadTrip America" (pretty decent read, and it's helped us find some cool stuff -- eg: Tinkertown!). This book recommended an east-west route involving Route 66 or the Mother Road (as coined by John Steinbeck, I learned recently). For those out there who aren't aware of the significance of Route 66, it was once a major east-west travel route that went from California through Arizona, New Mexico, Texas, Oklahoma, etc all the way to Illinois (Chicago?). By the way, Route 66 got its now-famous number due to the peculiarities of the highway numbering system in the U.S.: only road that cross the country coast-to-coast parallel to the equator can have a number evenly divisible by ten (I-10, I-40, etc.). Since Route 66 goes diagonally between south-west and north-east, its digits had to end in something other than zero, and the next available highway number at the time of construction was 66, so there you go. The original purpose behind the road was cargo traffic, and few people other than long-haul truckers travelled it, which resulted in the Route 66 getting a nickname of the "most lonely road". As USA climbed out of the Great Depression, more people started travelling to visit relatives and as tourists, and Route 66 was the fastest connection between Los Angeles and Chicago, so it got a lot of use.
The communities along Route 66 benefitted from the traffic (including the Okies in Grapes of Wrath

who traveled the road westwards, from Oklahoma to California, in search of a better life in

1920s), but essentially became ghost-towns when the new Interstates bypassed them.

Route 66 struggled for a while, but got officially closed down in late 70s or early 80s, and now only parts of it remain accessible off the I-40. Route 66 has seen traffic dwindle to just those die-hard road enthusiasts who have an interest in the past of this important historic road.

The highway is experiencing a new revival now that all guidebooks mention it, and more and more foreign tourists come to experience the Mother Road. However, for the most part it's a very sad sight to behold: boarded-up homes and storefronts left and right, ten ghost towns for each alive one ("alive" as in a community of maybe 5-10 homes where the sheriff doubles as the postman, fireman and general store owner), and the sign "For Sale By Owner" appears far more often than even the Route 66 logo itself.



We decided that we wanted to get our fair share of the past, before anonymous Interstates took over this nation -- we wanted to get our kicks (as the song goes "get your kicks on route 66"). We participated in a lot of the hype behind Route 66 (picked up a pin, magnet, and other trinkets with the Route 66 logo). The logo itself looks really cool so our actions are excusable. See the Arizona section for us "Standin' on a corner in Winslow Arizona", which was also on Route 66, but happened on a different day, so isn't included below.

I'll have to say that curio shops are about the main attraction of Route 66 these days, along with some surviving diners.

Route 66 highlights included the Snocap diner in Seligman, which although it was closed, had plenty of fun, quirky signs on it (eg: "Sorry We're Open") and is supposedly a favorite among bikers (we saw a bunch there even after closing time).

Seligman is one place along the Mother Road that tries to keep up its heritage and attract settlers, not a small feat in the land of dead communities... Delgadillo brothers (one of them owns Snocap) have done a lot to breathe life into the cute little town and succeeded in making it a permanent tourist attraction, if nothing else.

A few old-time motels are still around too but we didn't have the courage to stay at one -- our roach motel experience was yet ahead of us. Oh, gotta mention the dont-drink-and-drive, be-careful-on-the-road signs that abound on Route 66, usually placed in separate stanzas on 2-8 billboards along the road, for instance:

He kissed the miss
And missed the curve

I found these roadside oddities to be very refreshing against the general odor of gloom present on Route 66. Despite the ghost towns, though, there's one thing you can still get on the Mother Road, and that's the sense of a journey. We were often the only car on the highway as far as the eye can see, the lanes stretched out to the horizon, and you could feel the exhilaration of being on the road, of escaping the familiar and going to the yet unseen ELSEWHERE, the hope of getting someplace where the grass is greener, or at least a different shade, somewhere over the rainbow... Route 66 still holds the mystique that the interstates never had to begin with.

We also stopped at the Grand Canyon Caverns which were located off Route 66. These caverns are supposedly the largest dry underground caverns in the country .

<rant> We took a little tour which confirmed my belief that most people should not be allowed to have children. Certainly not 4 or 5, and definitely not that many if they'd rather be taking pictures of rocks than making sure their kids are safe and sound. I get the feeling that when many parents take vacations with their kids, they try to take vacations FROM their kids... for example, one couple had their older kids (about 6-7 years old) trying to look after their younger ones (3-4 years old). Thoughtless people like this end up ruining other people's vacations. Like I said earlier, there are many people who just should not be allowed to have kids. <rant>

Some interesting tidbits about the caverns: 1. They were commissioned as a nuclear fallout shelter by the government, and we got to see a lot of supplies/etc that they had set aside during the 60s in case of nuclear war. 2. The original owner of the caverns accidentally discovered the caverns by falling into them, and thought that he had discovered a combination gold/silver/diamond mine, and was a bit disappointed to learn that he had purchased a lot of "worthless" land (the caverns are probably doing pretty well now-a-days I suppose with the various tourists). 3. Skeletons and mummified remnants of prehistoric beasts (sabertooth cat and this bearlike thing) have been found in the caverns. 4. When the tour guide turns off the lights, it's absolutely pitch dark down there in the caverns -- the sort of darkness I'd never experienced before. Fun for a minute or so, but certainly not suitable for human habitation.


Pictures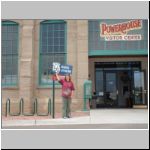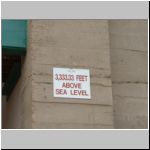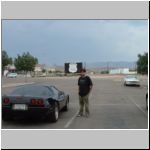 Route 66 goes through Kingman, Arizona, where fun stuff is found.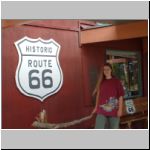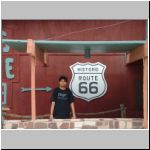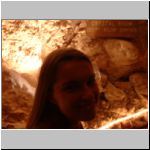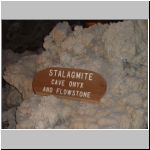 Grand Canyon Caverns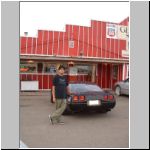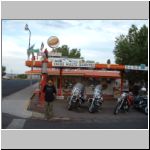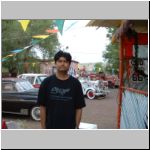 Seligman, Arizona, preserves Route 66 as living history...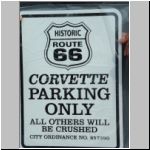 This "Corvette parking" sign shall hang proudly from the gate of our Berkeley place, pending Rene's permission.