US Road Trip
Last Updated: 01/23/04
---
Interactive Map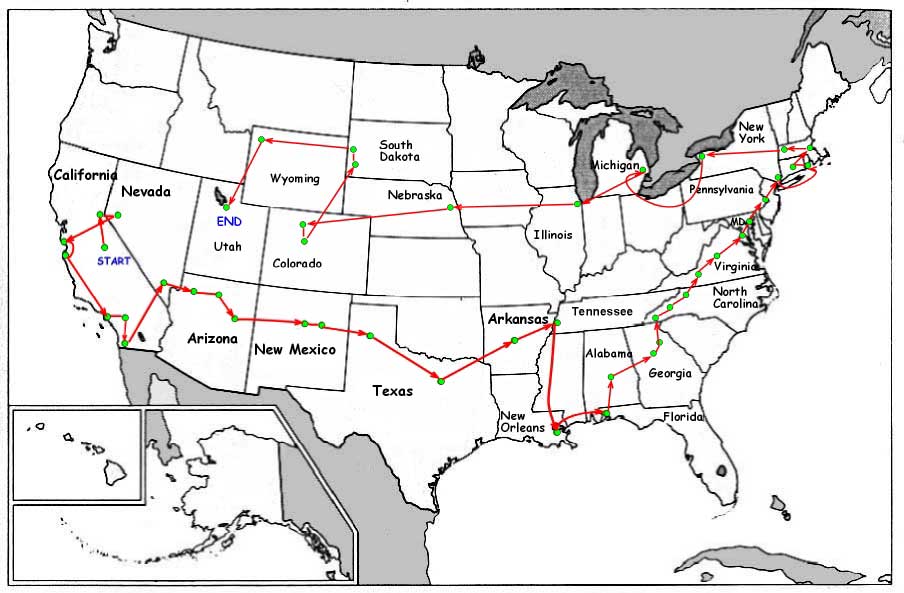 Here's our route across the US during our road trip. Click on the green circles to bring up the blogs for a particular city. You can also use the drop-down menus for state and city provided in the "Blogs" section.
The Big Picture
The Goal: A coast-to-coast road-trip going from California to Florida, and then up the east coast to Maine, before heading back to San Francisco for our flight to Russia.

The Car: We did this in our 1996 C4 Corvette. Although the gas mileage wasn't great (22MPG freeway), and the storage space was small, the vette had the "cool" factor going for it -- haven't seen anyone else who has done a long term road-trip in a Vette. If you have, please drop us a line, we'd love to hear from you...
Blogs
Here are the blogs from our US road trip (reverse cronologically ordered). We would like to thank everyone we met along the trip, from old friends to generous hosts (many who we had only briefly met during our wedding). You all helped make this a very memorable trip.

To aid in navigation, you can jump to the blogs for a country or even a specific city.
State City or Location (eg: National Park)
Utah
Renovated Homecoming in Salt Lake City - 09/10/03
Wyoming
Cold and Disappointment in Yellowstone - 09/08/03
South Dakota
*ACTUAL* Wildlife in Wind Cave National Park - 09/06/03
Dead Presidents - 09/06/03
Colorado
Friends' reunion in Denver - 09/03/03
Hiking the Rockies - 09/02/03
Nebraska
Sushi in Omaha? - 08/31/03
Russian Version
Illinois
Skyscrapers and pizza in Chicago - 08/29/03
Russian Version
Michigan
Detroit & Ann Arbor - 08/27/03
Russian Version
Massachussets
Basketball Hall of Fame - 08/25/03
Boston's Freedom Trail - 08/20/03
Connecticut
Yale: History in stone - 08/19/03
Rhode Island
Is it really an island? - 08/19/03
New York
Niagara Falls and Havanese dogs - 08/24/03
Russian Version
The Big Apple, post-blackout - 08/16/03
Pennsylvania
The city of brotherly love - 08/14/03
Russian Version
Maryland
Plenty o' boats and cadets in Annapolis - 08/12/03
Russian Version
Washington, DC
The Birthplace of our Nation - 08/11/03
Russian Version
North Carolina/ Virginia
Final Day of Blue Ridge Parkway - 08/10/03
Russian Version
More Blue Ridge Parkway - 08/09/03
Russian Version
Blue Ridge Birthday - 08/08/03
Russian Version
Blue Ridge Parkway - 08/07/03
Russian Version
Smoky Mountains - 08/06/03
Russian Version
Georgia
Tallulah Falls - 08/05/03
Russian Version
The Coca Cola Museum -- Globalization from Atlanta - 08/03/03
Russian Version
Alabama
MLK and the First Confederate White House in Montgomery - 08/02/03
Russian Version
Florida
Pensacola and the Blue Angels - 08/01/03
Russian Version
Louisiana
Gators, Gumbo and Mardi Gras in New Orleans - 07/29/03
Russian Version
Tennessee
Dead Elvis and live partying in Memphis - 07/26/03
Russian Version
Arkansas
Unfriendly insects and people - 07/25/03
Russian Version
Texas
Longhorns and REI in Fort Worth - 07/24/03
Russian Version
"Texas Legacies" in Palo Duro Canyon - 07/23/03
Russian Version
New Mexico
Tinkertown - 07/21/03
Russian Version
A day in New Mexico (Santa Fe, Inscription Rock and Fat Boy) - 07/20/03
Russian Version
Arizona
Driving across Arizona and the Petrified Forest - 07/19/03
Russian Version
Grand Canyon - 07/18/03
Russian Version
Route 66 (Get your kicks on) - 07/17/03
Russian Version
Nevada
A night in Las Vegas (Sin City -- Stephen King had the right idea in The Stand) - 07/16/03
Russian Version
Reno (The biggest little town in America) - 07/03/03
Russian Version
California
San Diego (Lions, Tigers and Bears oh my!) - 07/14/03 Russian Version
Mike and Tara's Excellent Wedding - 07/12/03 Russian Version
Pinks, Griffith and Parking Tickets - 07/10/03 Russian Version
Monterey & Big Sur - 07/08/03 Russian Version
Santa Cruz (We hit the road for real) - 07/07/03 Russian Version
Lake Tahoe - 07/02/03
Yosemite Trip (Where to find snow in June) - 06/29/03

Pre-Trip Fun
The city and Earlj - 06/25/03
The French Laundry - 6/15/03
First Camping Trip - 6/11/03
Supplies for our Trip (aka The hemmoraging of our bank account) - 6/10/03


Contact
Questions, Comments, Flames... all are welcome, so feel free to e-mail us: